November 3, 2009
Film Journal International | Home
October 28, 2009
Film Journal International | Terminally romantic: George Clooney stars in Reitman's tale of frequent flyers
October 7, 2009
Film Journal International | New York, I Love You
September 23, 2009
Film Journal International | Toronto Fest takes aim at corporate America
July 16, 2009
Film Review | Flame and Citron

May 19, 2009
indieWIRE INTERVIEW | 'I'm Surprised When Anybody Likes It': Soderbergh On His 'Girlfriend Experience'
May 7, 2009
indieWIRE HONOR ROLL '09 |"I didn't want 'Y Tu Mama Tambien Two'": Carlos Cuaron Talks "Cursi" and Cha Cha Cha
March 3, 2009
indieWIRE HONOR ROLL '09 | Self-Portraits and Biopics Dominate 14th Rendez Vous With French Cinema
February 6, 2009
indieWIRE HONOR ROLL '09 |Oscar '09: "Waltz With Bashir" Director Ari Folman
December 15, 2008
indieWIRE HONOR ROLL '08 | Engineering Simplicity: "The Class" Director Laurent Cantet
December 9, 2008
indieWIRE INTERVIEW | HONOR ROLL '08 | "He Didn't Bail, That's a Little Bit Unfair": "The Reader" Director Stephen Daldry
November 3, 2008
indieWIRE INTERVIEW | "I've Loved You So Long" Director Philippe Claudel
October 7, 2008
indieWIRE INTERVIEW | "Happy-Go-Lucky" Director Mike Leigh
September 26, 2008
indieWIRE INTERVIEW | "Lust, Caution" Director Ang Lee
September 11, 2008
Interview: Diane English on "The Women" | Film News | Film | IFC.com
July 25, 2008
indieWIRE INTERVIEW | "Brideshead Revisited" Director Julian Jarrold
June 20, 2007
indieWIRE INTERVIEW | "Lady Chatterley" Director Pascale Ferran

May 16, 2007
Blueberry Nights and the Crabwalk : Filmmaker Magazine: Blog
July 2, 2003
indieWIRE INTERVIEW | Francois Ozon on "Swimming Pool": Fantasy, Reality, Creation

Home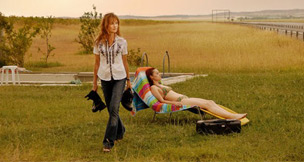 In the anti-road movie Home, a happily eccentric family of five lives on the margin of a vast, unused highway east of nowhere. But when the road suddenly becomes opened to traffic, bombarding them with noise and exhaust, the clan refuses to relocate, hunkering down in the one place the fragile mother (Isabelle Huppert) can call home.
In her assured big-screen feature debut, director Ursula Meier offers a provocative parable about individuals at war with development and the global economy. But the family's trials are inherently static, more a journey within than a cinematically riveting drama. Because of its eco-awareness and the ever-fascinating Huppert as a woman on the edge, the film should still pull in the art-house crowd.
Before the highway opens, it functions as the family's recreational space. They play roller hockey on the tarmac, its barrier functions as a shoe rack, and the older daughter, perpetually sunbathing in a bikini, amusingly treats it as her private beach. In this unorthodox but vital ménage, bath time is a shared event and on hot summer evenings the clan sprawls on a sofa in the garden watching TV. The kids go off to school and Dad (Olivier Gourmet) to work, but we never follow them; nor do we learn how they all ended up in such isolation.
The launch of traffic along the speed lanes makes for a forceful inciting incident, striking the family like an assault from another planet. In behavior that grows increasingly wacko, they attempt to go on with life as usual, dining al fresco over the racket of cars and rigs, while the older daughter continues to sunbathe at the road's edge, much to the delight of male motorists.
But the highway's deafening roar moves center stage, unraveling the fabric of family life. One member is mysteriously abducted; the middle daughter convinces her little brother that the fumes will stunt his growth; and every attempt to cross the road becomes a dance with death. Entombing themselves in a dark, airless space becomes the sole remedy.
The movie plays long. And once established, the folly of the family and their descent into semi-madness offers few surprises. Towards the end, their self-imposed claustrophobia becomes almost as punishing to the viewer as the characters.
Still, the film offers indelible visuals, such as Huppert larking about on the empty speed lanes; and, later, a giant traffic jam stalled before the family homestead, which scarily evokes a planet choking on its own abundance.
The role of an obsessed, intransigent woman is tailor-made for the ageless Huppert, and she's ably partnered by the great Gourmet. Tech credits are aces, the fluid camera of Agnès Godard becoming one with the family romps and pulling back for surreal long shots of Nowheresville (a stretch Meier found in Bulgaria.) Despite its flaws, by keying into fears about the spoilage of the planet, Home hits home.

Terminally romantic: George Clooney stars in Reitman's tale of frequent flyer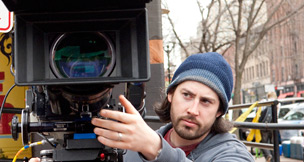 "I fell in love with a character," says director Jason Reitman, explaining the genesis of his new Paramount film Up in the Air, debuting in theatres on Dec. 4. "Ryan Bingham fires people for a living, and characters who do unthinkable things for a living excite me."
Hanging his story on the bones of a tricky character is nothing new for Reitman. His debut feature, Thank You for Smoking, featured a shameless lobbyist for Big Tobacco, while sophomore effort Juno subverted expectations of how a pregnant teen would navigate her dilemma, becoming a megahit that grossed over $230 million worldwide.
Now Up in the Air—arguably the one winner out of the Toronto Film Festival and an Oscar front-runner—brings a new topicality to the mix. It's not only wickedly funny and peopled by recognizable characters, but with the pink-slipping of America, this tale of a corporate downsizer feels ripped from the morning headlines.
Reitman views his hatchet man Ryan as a current twist on the classic American salesman, selling dreams to folks devastated by the sudden loss of their careers, as he flies around the country. "Instead of going door-to-door, Ryan goes hub-to-hub," says the 31-year-old Reitman, who has striking good looks, the pallor of a Talmud scholar, and self-confidence to burn. "But if you're going to make a movie about a guy who fires people for a living," Reitman adds, "he better be a darn charming actor. And there really isn't anyone better at that than George Clooney. The role was tailor-made made for him and it was probably one of the most exciting moments of my life when he finished reading it and said to me, 'Jason, it's great.'"
Living in airports, planes, and hotels with only a carry-on, Ryan also embodies a familiar male type: the commitment-phobe who avoids romantic baggage. When he picks up luscious business traveler Alex (Vera Farmiga) in a VIP lounge, he believes he's found a perfect match who shares his taste for no-strings affairs. (A priceless comic set-piece stages their mutual seduction by credit card and elite status perks.) But his airborne freedom gets threatened when smug B-school grad Natalie (Anna Kendrick) convinces Ryan's boss it's more efficient to dump workers via video conferencing. And when Ryan surprises himself (if not us) by falling for Alex, he discovers an unexpected need for attachment.
"This is my most original screenplay," says Reitman, who loosely adapted Walter Kirn's 2001 novel of the same name and shares script credit with Sheldon Turner. While keeping the book's central character and his occupation, he added such crucial figures as Alex, Ryan's love interest, as well as efficiency ace Natalie, Ryan's nemesis. And if Kirn's novel is "about a man losing himself, this film is about a man finding himself." Reitman also made the decidedly non-commercial choice to withhold a clear resolution. Instead, he points out, there's an epiphany. "It almost doesn't matter where Ryan goes from here. He has the information. He's undoubtedly changed. He can go back to the life he was living but not with the same perspective."
Reitman also considers Up in the Air his most personal film. Its screwball-style dialogue actually sounds like Reitman himself, who admits to being a "wise-ass" and likes whip-smart characters able to articulate their thoughts. The credit card scene was a snap to write, he says, because and he and his wife once flirted over the same thing. As in his previous work, Up in the Air also explores a compelling question. "In my first film, my questions were political. The second had to do with growing up. This one asks the biggest question of all: How do you spend your life—with people or alone? And as I made this movie, it confirmed the idea that I felt burning inside—that life is better with company, even if you believe you don't need anybody."
As it happened, over the six years it took to write the screenplay, Reitman's own life changed. Like his anti-hero, he'd begun to consider airplanes, airports and hotels a virtual home. Then Reitman fell in love and married (writer/actress Michele Lee), and became a father. "In the course of writing the screenplay, Ryan Bingham the character and I discovered what was really important in life." When asked if there's been an Alex in his own life, Reitman replies, "I'm very happily married. And even if there had been, I don't think this would be the time to reveal it."
With its feel for the zeitgeist, Up in the Air also captures an America in thrall to its BlackBerry's, iPhones, texting and video chatting. These gizmos, Reitman asserts, convey a false sense of connection. "We don't talk any more. In fact, we're as disconnected as we've ever been. There's no sense of community or responsibility to be in a relationship. That's why so many of the conversations in this movie happen over video texting and phone calls"—and let's not forget a kiss-off e-mail that reads "Don't want to c u anymore."
Not one to tell people how they should live, Reitman admits to being equally addicted to texting and Twittering, adding, "I'm fortunate I get to make movies and work through some of these questions."
Up in the Air has left some viewers with questions of their own. Though reviews from Telluride and Toronto ranged from positive to rapturous, this critic took issue with a crucial twist in the third act, when the heroine displays the sort of emotional detachment that's usually the province of men. Reitman, however, sees no contradiction. "We're living in a very unique moment when women have been dealt a tricky hand. They're coming off the heels of the feminist movement and have more opportunity than ever before. But with that comes a lot of confusion about their role in society. Today there exist modern businesswomen exactly like my character, but who have not been portrayed onscreen. That's part of why I wrote this role. In a strange way, [Alex] is the man and Ryan is the woman in this relationship."
Even so, onscreen the character's 180-degree flip strains credibility. "That's good!" Reitman replies. "I don't want my characters to fit in easy boxes." All three of his films, he points out, contain a variety of characters who challenge the idea of how we should think of them. "That's what draws me to them. I like that it makes you a little uncomfortable when you see Alex acting the way she does. The idea is to catch you off-guard, to show you a different idea of the modern working woman. She's flirting with another life the way we presume men do all the time."
And what was it like to work with George Clooney? "He's about as good an actor as exists right now," says Reitman, lauding Clooney's ability to switch during a day's shooting from flip and charming to a man devastated by getting his world snatched away. "In this movie George has shown a level of vulnerability that most movie stars can't even touch. In the third act when he gets socked in the stomach, he never cries, you just look in his eyes and feel it."
Yet in making his ax-man so likeable, doesn't Reitman court the accusation that he's giving him and his odious job a free pass? One has only to compare similar corporate footmen in Michael Moore's Capitalism: A Love Story, who are portrayed as America's executioners. Further clouding the issue, Up in the Air includes painful footage of real people who were recently fired.
But Reitman doesn't see Up in the Air as a political film—even though when one character refuses to go on whacking workers, viewers feel tempted to applaud. "I actually don't think there's anything wrong with that job, just as I don't think there's anything wrong with the job of head lobbyist for Big Tobacco," says the filmmaker. "The world needs all types. Sometimes people need to get fired—my wife recently was. Yes, it's heartbreaking that this many people are losing their jobs, but that doesn't make it wrong."
If Reitman, a Canadian, nails the zeitgeist in America, it's partly because he grew up and went to college here. From childhood on, he was something of a screen animal, using movie theatres with triple bills as daycare, as he puts it. "I've always been ahead of the curve, always started things very young."
An English major in college, he ran a desk-calendar business, using the money to make his first short film—then left school to make commercials. He's had the opportunity to be on sets his whole life, thanks to his director father, Ivan Reitman of Ghostbusters fame. As for the impeccable comic timing in Up in the Air, "I don't think you can learn it," Reitman says. "I think I was born with a sense of timing, tone, rhythm—important for comedy."
Mostly, though, it's the countless hours working in the editing room—where "movies really come together and the magic is made"—that Reitman credits with teaching him the craft. "Watching [my father] be ruthless about his material made me ruthless about my own. I cut anything that doesn't work without a second thought, even if it's a great scene"—an approach much in evidence in Up in the Air, which is as lean and mean as Ryan's corporation. "I watch movies all the time and think, 'This could go, and that'… I sometimes think movies have forgotten how to move."
Up in the Air not only moves, it's likely to take off big-time and land on the number-three spot in Reitman's trifecta of winners. The filmmaker attributes his success to date to the fact that his movies emerge from a deep inner wellspring. During the five years he tried to launch Thank You for Smoking, he declined offers to make bad movies which didn't speak to him. "It was very tempting to be on a set and get paid to direct movies. That was the dream. And to turn down those movies and wait it out was very hard."
Yet he considers those five years he waited the most important thing he's done for his career. "Because by starting with Smoking, it's allowed me to continue making movies that feel personal to me. I can't help but feel that if you try to make a personal movie every time, the probability that you'll make a good film is higher than if you just try to make a profitable one."

Film Review: New York, I Love You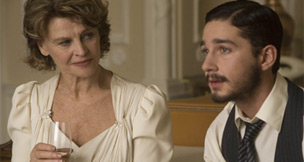 New York, I Love You continues the "Cities of Love" series that began with Paris Je t'Aime, far surpassing it. Though a few of the film's ten vignettes fail to coalesce within their allotted eight minutes and the inevitable final twist becomes predictable, most of these linked "shorts" succeed remarkably in nailing the serendipitous flavor of love, New York-style. At the same time, the ensemble of stories is knitted together by clever transitions or reappearing characters, forming an innovative multi-paneled portrait. The art-house crowd should cotton to the omnibus form and a tone ranging from street-smart to wistful.
The helmers—an eclectic group ranging from Mira Nair to Yvan Attal to Brett Rattner—were bound by a few rules: They had only 24 hours to shoot, a week to edit, and needed to give the sense of a particular neighborhood. Perhaps these strictures have contributed to the film's breathless style, which adds to the sense of a city in overdrive. Though the filmmakers hail from all over, the Gotham conveyed here, curiously, is predominantly young, mainly south of 14th Street, cold and rainy, and populated with nervous types in leather itching to step outside for a smoke.
Two of the strongest stories come from French director Attal. As a romantic pitch-man, Ethan Hawke plies with dirty talk an attractive Asian woman (Maggie Q.) on the curb outside a Soho restaurant. But a wicked reversal suggests she might be better at his game than he is. A second New York moment again finds a man (Chris Cooper) and a woman (Robin Wright Penn) sucking in the nicotine, but this time the woman is hitting on the man. "You know what I always like about New York?" she muses, encapsulating the film's theme. "These little moments on the sidewalk, smoking and thinking about your life… Sometimes you meet someone you feel like you can talk to." On their return to the restaurant, their shared secret is revealed.
In a punchy if vulgar tale by Ratner, James Caan as a pharmacist suckers a young naif into taking his disabled daughter to the prom. Things are never what they seem in these stories, including, in this case, the daughter's agenda. Shekhar Kapur directs a haunting vignette suffused with sadness, with Julie Christie as a former diva installed in a New York hotel, where she's drawn to the lame Russian bellhop, Shia LaBeouf.
Along with the pungent sketches come a few duds: a Mira Nair-helmed encounter between Hassid Natalie Portman and a Jain diamond dealer (for this Portman needn't have shaved her head); Orlando Bloom as a frantic musician on deadline somewhere grungy on the Upper West Side; and Andy Garcia matching wits with Hayden Christensen in a flaccid love triangle. But any misses are redeemed by a touching and humorous final vignette by Joshua Marston, with Eli Wallach and Cloris Leachman as an aged couple making their own style of love in a town that belongs to the young.
Most original of all, New York opens a romantic window into the city via a sort of filmmakers' cooperative. The vignettes are tied together into a single feature through a "recurrent character," a videographer who interacts with the other characters. And transitional elements—choreographed by 11th director Randy Balsmeyer—move the viewer from one world to another, uniting all these intimate stories into a single shimmering fabric.

Toronto Fest takes aim at corporate America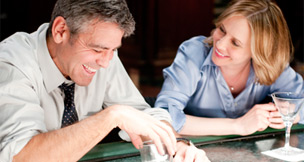 The 2009 Toronto International Film Festival (TIFF) was marked by a smackdown of American corporate culture. Usually, especially in Cannes, we could depend on Lars Von Trier and other European auteurs to do the job. But this time round, it was American filmmakers who blasted inequities and corruption in the executive suite. At the same time, these reports on the zeitgeist couldn't have been timelier and doubled as razor-sharp entertainments.
Also notable this year was the slew of accomplished films from women directors. Already, both An Education by Lone Scherfig and Bright Star from Jane Campion have collected buzz as awards-season fodder and will doubtless run up against The Hurt Locker from Kathryn Bigelow.
If TIFF's 200-plus lineup produced no breakout Slumdog Millionaire, the consensus had it that Jason Reitman's Up in the Air, the tale of a corporate hatchet man played by George Clooney, emerged as an awards-season front-runner. Unlike previous editions of TIFF, which could count a cluster of candidates, Reitman's film stood alone. Generally, buying was sluggish, though mid-fest the Weinsteins snapped up for $2.5 million Tom Ford's splendid first feature and Colin Firth starrer A Single Man.
Chief among the cluster of strong films that critique the U.S. was, of course, Michael Moore's much-anticipated Capitalism: A Love Story. Moore does a bang-up job of taming his vast, diffuse topic into a broadside at once instructive, enraging and entertaining. Essentially, he sets out to demystify a system rigged to permit Wall Street titans and bankers to rake in the shekels while less fortunate citizens spiral into poverty from unemployment, get ousted from foreclosed homes, and die from lack of health care. Singled out for attack are Goldman Sachs and other key players in a shadow government that calls the shots in Washington.
Reprising his signature set-pieces, Moore shambles up to security guards at corporate strongholds to request face time with the CEO, and surrounds the New York Stock Exchange with crime-scene yellow tape. Predictably, some critics taxed Moore with oversimplifying. I agree—but Moore adopts this tactic in the hopes of expanding his reach beyond the elites. And considering that even a Harvard prof interviewed in the film pfumphered around when asked to define "derivatives," maybe simpler is to the good.
First-time director Derrick Borte gave us The Joneses—as in "keeping up with"—which lobs a grenade at American-style consumerism. Toplined by Demi Moore, David Duchovny and Amber Heard, the film follows the handsome Joneses as they move into their new McMansion in an affluent gated community. But it quickly becomes apparent that this foursome is a faux family positioned by a company to whip up the acquisitive instinct of their neighbors and inspire them to go on a buying frenzy. As Duchovny's character puts it, "Whoever dies with the most toys wins." Despite a feel-good denouement you can spot 15 minutes in, the film offers a mordant morality tale about the American Dream turned rancid.
Steven Soderbergh's recently opened The Informant! could stand as an enlarged detail from from the broad overview presented by Moore's Capitalism. A stealth social critic, Soderbergh continues to explore the values of America's corporate culture, conveyed in his films as no more a choice than the air we breathe. His Girlfriend Experience, for example, proposed that everything's up for sale and even intimacy can be purchased like socks.
In The Informant!, based on the book by Kurt Eichenwald, a chubbed-up Matt Damon plays a young exec at agribusiness giant Archer Daniels Midland, who exposes his employer's price-fixing scheme. Avoiding the earnestness of, say, Michael Mann in The Insider, Soderbergh sidewinds his attack on corporate abuse using Marvin Hamlisch's vaudeville-like score, complete with kazoo, and his anti-hero's oddball voiceover. The film's murky-yellow palette reveals as much about this milieu as dialogue or plot.
Canadian Jason Reitman, who grew up and attended college in the U.S., might be considered an honorary Yank. His lavishly praised Up in the Air, loosely adapted from American Walter's Kirn's novel—and following on Thank You for Smoking and Juno—marks a winning three-for-three for Reitman. George Clooney plays a coolly detached executive who makes a living flying from hub to hub and firing people. He meets his romantic double in fellow road warrior Vera Farmiga, who also avoids entanglements and gets off on elite status, and his nemesis in an arrogant B-school grad who prefers axing people via video. The mix of screwball comedy, hot-button issues and the Clooney charm offensive should resonate at the box office.
Other American films touch on corporate rot—or Yankee cluelessness—in less direct ways. In Soliltary Man by Brian Koppelman and David Levien, Michael Douglas delivers a brave turn as an aging, once-successful exec in freefall. In the film's morally bankrupt world, Douglas' compulsive womanizing is presented as a compensation for his loss of status. Constructed like a thriller, The Art of the Steal by Don Argott (just picked up for distribution) is an exposé about a power grab by charities and Philadelphia pols and financiers to control and relocate the multi-billion-dollar Barnes collection of art. The film's little guys battling to protect Barnes' bequest could have come from the playbook of Michael Moore. Finally, even The Invention of Lying by Ricky Gervais presents the citizens of Anytown U.S.A. as gullible yahoos.
As mentioned, this year's TIFF was also marked by a strong showing from female filmmakers. Regrettably, I missed Drew Barrymore's Whip It, which sounds like a hoot, The Vintner's Luck by Niki Caro, and Rebecca Miller's The Private Lives of Pippa Lee, featuring a lauded turn by Robin Wright Penn. I did catch the standout Bright Star from Jane Campion, which re-imagines the romance of poet John Keats (Ben Whishaw) and girl next-door Fanny Brawne (Abby Cornish).
Though a period piece, Bright Star bears no trace of Merchant Ivory or "Masterpiece Theatre." Taking great formal risks, Campion reinvents the biopic, replacing straight narrative with scenes that play like stanzas in a poem, separated by fades to black. The film charts Fanny's budding intimacy with the penniless Keats, which is opposed by a society that expected women to marry well. From a flirtatious minx, as Keats calls her, Fanny evolves into a woman whose passion for the poet embraces his work. To judge by all the figures bathed from the left in light, Campion has looked at a lot of Vermeer. In fact, this exquisite film is besotted with light, conveying an ethereal passion less through story than degrees of radiance.
Lone Scherfig's An Education, a launch for new It girl Carey Mulligan, arrived in Toronto fresh from accolades in Telluride. Set in early-'60s London, it features a bright teen gunning for a spot at Oxford, who gets seduced away from her goal by older sophisticate Peter Sarsgaard. Though Nick Hornby's script expertly combines a coming-of-ager with a culture on the cusp of change, I found Sarsgaard's older man a bit smarmy and distasteful.
Vision by German feminist auteur Margarethe von Trotta will doubtless not find distribution here. A pity, since its portrayal of a medieval German nun starring the sublime Barbara Sukowa showcases a proto-feminist who should resonate with women across the globe.
Similarly, Lourdes by Austrian auteur Jessica Hausner (Hotel) might be too austere to attract a stateside distributor. It follows a paralyzed woman played by Sylvie Testud to the famed Christian hot spot where the ill flock seeking a cure. Elina Lowensohn indelibly plays an otherworldly nun conducting the pilgrims through the shrine. The film takes no religious stance, preferring simply to observe the "miracle" that mysteriously heals one pilgrim who, ironically, has little faith. Haunting and stately—and much admired in Venice—Lourdes is the work of a richly gifted filmmaker.
As always, this year's lineup included films that landed somewhere between between watchable and misfire. In fact, you could gauge audience judgment when more people in your row were looking at their BlackBerry than at the screen. Falling among the blunders was Tim Blake Nelson's Leaves of Grass, with the excellent Edward Norton in the roles of identical twins, one an Ivy League professor, the other a lowlife yokel mired in the '60s. Ostensibly an attempt to explore the power of fraternity, the film ricochets between farce and melodrama like a car stripped of gears.
Into the category of guilty pleasure falls Oliver Parker's Dorian Gray, an adaptation of Oscar Wilde's famous novel about a gorgeous innocent who sells his soul to retain his youth and beauty. Meanwhile, his portrait, famously, reveals his true inner rot. Toplined by Ben Barnes and Colin Firth, the film works Gothic horror tropes to often enjoyable effect, yet fails to tease out the homosexual subtext of this Victorian tale about a love that dare not speaks its name. But, oh, those great rugs in Dorian's mansion.
When two fine dirty minds combine forces—think director Atom Egoyan and scripter Erin Cressida Wilson—you're apt to get a sizzler like Chloe. Julianne Moore plays a long-married woman who suspects her professor husband (Liam Neeson) of having an affair. After she hires a sultry escort (bug-eyed babe du jour Amanda Seyfried) to seduce her husband and test his loyalty, the relationship between the two women gets hot and heavy. Egoyan's psychosexual thriller uncorks a wicked twist, but derails when it lapses into Fatal Attraction territory. You come away from this wondering: Is there anything gutsy Julianne Moore won't do?
Finally, TIFF usually delivers one film that soars above the rest. In this edition it was designer Tom Ford's debut feature A Single Man. Mid-fest, its star Colin Firth took best actor in Venice, creating frenzy in the halls of the Manulife Center, home to most of TIFF's theatres.
In this adaptation from a late novel by Christopher Isherwood set in 1962 California, Firth plays a gay college professor mourning the death in a car accident of his longtime lover (Matthew Goode). Far from reconciling with his loss, Geroge is methodically staging a suicide. But fellow Brit and best gal pal Julianne Moore keeps him tethered to life, along with a dishy male student whose eyes express more than a search for a mentor. Not only is the period detail spot-on, but Ford ties the convergence of Cold War fear-mongering to a gay man's isolation in 1960. I've always thought Colin Firth a superb thesp, yet never suspected in him the incandescence and depth he brings to the title character, using his voice like a Stradivarius.

'Y Tu Mama Tambien Two'": Carlos Cuaron Talks "Cursi" and Cha Cha Cha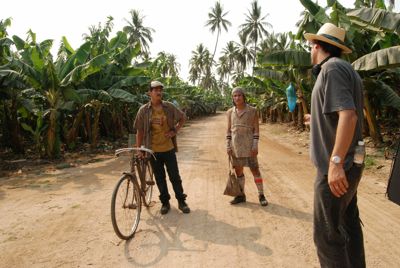 The making of "Rudo y Cursi" was like a big fat family reunion. This clan, though, is linked by creative affinities as well as blood ties. And unlike many families that spring to mind, the "Rudo" collective is about mutual supportiveness and the celebration of brotherhood. Hard to sort out all the team's affiliations, but here goes: "Rudo"'s director/writer Carlos Cuaron is the younger brother of Alfonso Cuaron, director of "Y Tu Mama Tambien," for which Carlos wrote the script. The film's producers - bro Alfonso, Gullermo del Toro and Alejandro Gonzalez Inarritu - are long-time collaborators working on their new production company, Cha Cha Cha with "Rudo."
If you're still with me: the film's two stars, Diego Luna and Gael Garcia Bernal - reunited on screen for the first time since "Mama" - have been buddies since childhood and run their own film company. Says Luna, "we're in it together for the journey."
Fittingly, "Rudo," Cuaron's first feature, explores the dynamics of brotherhood - an "emotional autobiography," he calls it. Luna and Garcia Bernal play Rudo and Cursi, squabbling siblings who work on a banana plantation. Rudo (Spanish slang for tough) dreams of becoming a soccer star, while Cursi (or corny/cheesy), wants to be a pop singer; and both long to build their beleaguered mom a grand house on the beach. After soccer scout Batuta (Argentine comedian Guillermo Francella) spots their moves in a local game, the brothers head off to Mexico City to play the big leagues.
But success proves fickle and eventually the pair faces off in a climactic penalty kick, shot like a Sergio Leone Western. Though soccer is the context, "Rudo" uses the sport as a filter through which to tell a story of rivaly, aborted dreams, and the primacy of family. And the film's comic elan is infused with dark social commentary. The rough-and-tumble rapport of Garcia Bernal and Luna bounces off the screen in the manner that made "Mama" such a joy; and Cuaron has fun with a cheesy music video of Garcia Bernal singing badly.
Beneath the horseplay "Rudo" implies that soccer and singing, the ticket out for Mexico's slumdogs, work for only a tiny fraction. And the closing images of a wedding are shadowed by the narco money behind it and the installation of a drug lord as the new surrogate father. indieWIRE recently caught up with Carlos Cuaron when he was in town with his two delightful stars to promote the film.

indieWIRE: What originally inspired this film?
Carlos Cuaron: I first wanted to make a mockumentary about a soccer player who came from a humble background, who made it big, and when he was at the peak of his success mysteriously disappeared. When I told this idea to Gael and Diego separately, they both wanted to be that guy. But I had only one character, and I realized at that point that I wanted to work with both of them. So I told them it was going to be a sibling rivalry story. I told Gael I wanted him to play Cursi and Diego to play Rudo. And their first reaction was no, they wanted to play the other guy. And I told them that I didn't want to repeat myself and make "Y Tu Mama Tambien #2" and I wanted to cast them against type. They got it immediately and started to throw ideas at me. They're very proactive.
iW: How did you get the project off the ground?
CC: I pitched the idea to my brother and he said great, when you have a screenplay finished, I'll produce it. And what do you think of Alejandro and Guillermo producing it? They had just formed Cha Cha Cha. It was a surprise to me but I was honored.
iW: Does the bond between Rudo and Cursi parallel yours with your brother?
CC: Oh, besides the fact that we're both idiots? Look, brotherhood is universal and the way you relate to your siblnig is probably very close to the way I react to mine. You can have an argument and hate him and ten minutes later it's fine. And then sometimes it's 25 years later and it's like, 'Yeah, I hate you.' That's what brotherhood is all about. That's what was so nice about Obama's gesture in Tobago. Instead of making war, which is what Bush used to do, he said. 'yeah, we don't have to agree, but we can be friends.'
iW: With "Rudo" as the first film up from Cha Cha Cha, did it add to the pressure?
CC: I was too stupid, like a donkey following the carrot, I just wanted to make my movie. They gave me complete freedom, but were also very demanding because that's the way they are, and that's the way I am. They send me their scripts, we get into each other's cutting room - so we sort of officialized the relationship with this production company. They gave me great feedback all the way.
iW: It seems you almost go out of your way not to show soccer in the movie. Why?
CC: Because it's not a soccer movie. It's a movie about brotherhood. Actually, I didn't need to show soccer. If you like the game, there's no better place than the stadium, or TV with all its cameras and slo-mo. There's no way you can shoot that in a movie. What I show is the human emotion reacting to what's on the field or the sportscasters narrating the game. And I only go into the field at the climactic moments of the rivalry between the two guys, because that's what's important.
Also, soccer is a sport that is not easy to dramatize. Baseball has pauses; between each pitch there's something at stake. The same with American football, or boxing, the most dramatic sport. But with soccer the ball never stops, there's no pause, no drama. The only real dramatic moment is the penalty kick. It becomes a Western duel, two guys facing each other, with destiny, a metaphorical death at stake.
iW: Did you have to teach your main actors soccer?
CC: Yes, they were such bad players. They trained for about two or three months. I wanted them to look real with the ball and the postures - also to get fit. Gael had to run a lot and the legs won't react if you don't have the physical capacity. I think they had a lot of fun, especially Gael. But Diego hates to be a goal keeper, so he suffered. Gael also took singing lesssons so he could control his voice enough to sing badly. He sings better in reality than the way he sings on screen.
iW: What's it like to work with Gael and Diego?
CC: Their complicity and chemistry is something you can't get with rehearsals. It really helps that they know each other and that we know each other so well. We know our strengths and weaknesses and each other's moods. We could vent because that's what you do with your siblings. But they were very respectful and knew that I had to fulfill my vision - and we shared that vision.
iW: Despite its high spirits, I came away feeling this was quite a dark movie.
C: Well, their sister marries a drug lord. My intention with the film was to create a social portrait of my country. Not just the class issues, but also show that the drug guys have penetrated every single thing in Mexico. In fact they have become perhaps the most solid institution in Mexico. The drug lords provide for the communities, build roads, churches, schools. What's usual and sad now is that the drug world is recruiting young people - they have few other opportunities. The Mexican dream has become a nightmare. The other thing you can say is that drug dealers are bad and they kill people, but at the same time you have one million people working for them and they provide for one million families and that's a lot.
iW: You've also described "Rudo"as a wolf hidden in a sheep's skin. What's the nature of the wolf? Dashed hopes?
CC: To me it's reality. In reality a few people are champions, a very few get to be president. We're used to Hollywood movies that say, oh yeah, that's possible, but that's a lie. And I like honesty above all. Life gives you beautiful moments and then next thing it's totally dark and shitty and you want to kill yourself. The movie is about how life treats us. There's no pure black and white, but all the tinges of gray.
iW: In fact, all through the film there's the nagging sense the brothers are going to derail…
CC: That's because they don't have a platform - education. They can't be successful in the materialistic sense. But I actually think these two guys are really succesful as human beings. They don't succeed as soccer players because they have these flaws and screwed it up. But as brothers they do succeed. They come to terms with each other and they know that they have each other. In the most human way they are winners.
iW: The collective "family" that created "Rudo" is pretty remarkable. Is there something about your collaboration that's particular to the Mexican culture?
CC: Probably. I think it has to do with the way we regard family. We can be scattered around the world and we can still be very close and know what's happening with everyone. When you create strong friendships you become family. Alfonso is my brother, but the others have become my brothers in the process of making the movie.

iW: It sounds a little too good to be true.
CC: It sounds corny.
iW: People are by nature rivalrous.
CC: We admire each other and we don't fee bad about saying that. Alfonso can come to me and say, 'Great screenplay!' and really mean it. But for the people outside our famly, yeah, there's some jealousy.
iW: Do you fear having to compete with the big success of "Y Tu Mama Tambien?"
CC: I have to live with that, yes. But I don't have to compete with anyone but myself. I don't care about being better than the other guy, but can I be better than I was the day before? That kind of competition I do care about. Yet the comparisons between "Y Tu Mama" and "Rudo" are inevitable because it's the same creative team. They are like sibling movies.
"Rudo" is somehow the continuation of the work that we started with "Mama." That's perfectly natural. There are many similarities and many differences. And the good news is that the comparison is with something I believe is a good movie. Same with my brother - there will always be comparisons between us, yeah! I've lived my life with that. I don't have a problem. Do I feel bad? No! If he was a shitty filmmaker then I would feel bad. But he's a great director so if I get compared to him I just feel that it's good news.
iW: But sometimes one suffers by comparison.
CC: I don't. Because I know that he is really talented and I'm grateful for what he has taught me. And he's also very grateful for what I have given him… I will never be able to make a film like "Children of Men," it's amazing, one of my favorties. I will not attempt such a film - I don't have the talent and I don't care. I have my own path and we share a path together too. And we love that, we do not question that, we just do it.
iW: How did you move into filmmaking in the first place?
CC: When I was fourteen I decided I wanted to be a writer. So when Alfonso needed someone to write his scripts, he said, 'hey you, you want to write? Come, help me.' So that's how we started to work together - I was nineteen back then. I decided to start directing in the mid '90s. I had lunch with Guillermo and Alfonso and I was depressed and Guillermo said, 'What's wrong with you?' I said I've written all these scripts and they don't get produced, it's like giving birth to dead babies, and he said, 'well why don't you direct them?' And I thought, 'yeah, he's right.' The thought had never crossed my mind because I'd wanted to be a writer and that was that. So I started writing scripts for short films and I did eight.
iW: Why has it taken you till age forty-two to make your first feature?
CC: I tried to make my first feature ten years ago, a completely different project. That project collapsed. At the same time a project of Alfonso's collapsed And that's how we ended up making "Mama." I also discovered that I was not ready to direct a feature. All these years helped me a lot. I've done eight shorts. And it helped to work with Alfonso. That was school for me. I didn't do film school, I was an English major.
iW: Would you like to do a film in Hollywood or an English-language film?
CC: I'm open to everything. If I get a good offer for a project I can connect with, I'll do it. I would make a Hollywood movie as I would make an Argentinian movie or a Japanese movie.
iW: Is it important to you to write your own script?
CC: It's important for me to connect with the material and feel it is close to me. If it's not, it's a waste of time because filmmaking is really tough and takes a lot of time and life is short. I'd rather be doing somethig else.
iW: What's the quality most crucial for a director? I understand getting a vision to the page. But how do you put one on a screen?
CC: As a director you have to put yourself at the service of the project and not the other way around. Many directors have the projects at their service and that's egotistical and narcissistic. If you put yourself at the service of your project, then all your team is going to die for it. Because they'll see your attitude. They won't die for you personally, but they will die for your project and that's what you want.
back to the top


Flame and Citron -- Film Review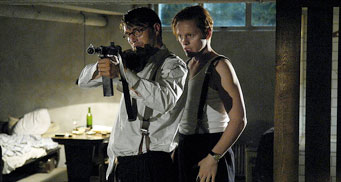 Bottom Line: A bold, riveting tale of wartime resistance borrowing the form of a noir thriller.
NEW YORK -- From the opening black-and-white footage of Nazis invading Copenhagen, "Flame and Citron" draws you into its doom-laden atmosphere and keeps ratcheting up the tension. This searing, stylish account of World War II heroism from Denmark's Ole Christian Madsen avoids period realism, conveying the story of two heroes of the Danish resistance as a noir thriller, complete with shadowy alleys, double-crosses galore and the requisite femme fatale.
Beneath its stylized surface, "Flame" is also a provocative film of ideas, exploring the notion of heroism. Although based on true events, it unspools like a fever dream, circling back to the hero's opening voiceover, which at the end takes on new poignancy.
This icy portrait of two assassins shooting Nazis point-blank offers no Hollywood-style uplift to mollify mainstream viewers. But "Flame" should pull in a niche group of World War II connoisseurs and will delight art-house and fest audiences with its innovative mix of drama and history filtered through genre. The film opens in New York on July 31, then in L.A. and a other markets August 14.
It's 1944 and Copenhagen is occupied by Nazi forces. Two resistance fighters with the noms de guerre of Flame (Thure Lindhardt) and Citron (Mads Mikkelsen) work undercover for the Holger Danske Group, assassinating Danish turncoats. They also itch to off the German invaders, in particular the silver-tongued Hoffman, head of the Gestapo in Denmark. Flame and Citron take orders from the well-fixed Aksel Winther (Peter Mygind), who in turn receives orders from London.
Known for his red hair and fearlessness, Flame, barely 20 and the younger of the duo, has become notorious throughout Copenhagen and carries an inflating price on his head. He acquires Ketty (Stine Stengade), a femme fatale in a Veronica Lake blonde wig, who works for the underground as a courier.
Following the loss of two comrades in the cell, it becomes apparent there's an informer in their midst. Now all loyalties appear murky. To the film's credit, it captures the confusion among the renegades -- call it the fog of resistance -- keeping the viewer as off-balance as the fighters.
Winther, it turns out, may be using his position as a front to protect financial interests tied to the Germans. Meanwhile, Ketty, though seemingly in love with Flame, may be a double -- or triple -- agent. Disillusioned with their self-seeking superiors, Flame and Citron become resistance "outlaws," pursuing their own vendetta to its inevitable bloody denouement.
It helps that the vendetta is carried out by two gorgeous, charismatic actors. Lindhardt, with his orange shock and milky skin, makes a riveting screen presence. Despite the film of cold sweat over his grizzled face and unflattering glasses, Mikkelsen's sculpted, exotic beauty pierces through.
The Occupation literally makes Citron sick to his stomach, leaving him with no choice but to fight it. Though more wed to battle than family life, he also loves, in his fashion, his wife and child. In a wrenching scene, he clumsily comes on to his wife, his need for her palpable, but she knows that at heart he's a rootless wanderer.
Flame, from a privileged background, developed his hatred of Fascists after witnessing anti-Semitism in Germany. Through Flame the filmmaker looks deep into the character of a hero, suggesting that he loses some of his humanity to the Cause and risks resembling the enemy he fights.
In a telling face-off, Flame visits his hotelier father, owner of the mountain retreat favored by Nazi bigwigs, who simply wants to get by. The film indirectly challenges viewers to ask what they might do in a like situation.
For "Flame's" bravura style, credit goes to below-the-line contributors. Cinematographer Jorgen Johansson favors overhead shots of figures in fedoras and stormtrooper uniforms fanning out or closing in like pawns directed by a higher force. Production designer Jette Lehmann has contrived a palette of gunmetal greys and livid whites daubed with red velvet, especially striking in the barny backrooms of cafes.
In its tough-mindedness "Flame" owes much to Jean-Pierre Melville's "Army of Shadows." Avoiding the docu-style string of anecdotes of many fact-based films, it offers the shapeliness and irony of classic drama. For beneath his stony exterior, it's Flame's romantic soul that will prove his worst enemy. This masterful film is at once a portrait of wartime heroism and a poignant journey into a boy's secret heart.

"I'm Surprised When Anybody Likes It": Soderbergh On His "Girlfriend Experience"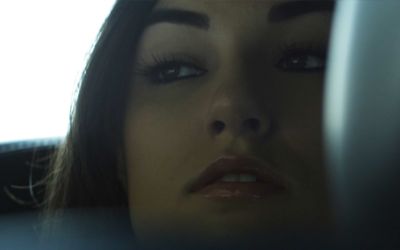 "The Girlfriend Experience," a riveting provocation from Steven Soderbergh, is so organic and of a piece - it contains nothing extraneous, nothing that doesn't serve its central concern. Take, for example, the voice of a ritzy call girl named Chelsea, played by porn starlet Sasha Grey. Chelsea's flat-line monotone mirrors the film's proposition that in the consumer society everything exists on the same plane and can be reduced to a commercial transaction, whether it's bonds, sportswear, or sex. Or, in the case of Chelsea, a combo of sex plus intimacy for two grand an hour that's called a "girlfriend experience." For those who don't get out much, this rentable relationship is available from a kind of one-stop hooker known as a Girlfriend Escort or GFE.
The chameleonic Soderbergh has long mixed studio entertainments with art house gambits that can range in scope from epic to chamber pieces. Following on the two-parter "Che," the 77-minute "Girlfriend"—released on video-on-demand three weeks before it's set to hit theaters this Friday - focusses for six days on Chelsea during the recent presidential campaign, Palin and McCain on the tube and everyone obsessed with the tanking economy. Lusciously lensed on HD, the camera trails Chelsea to swanky downtown haunts where she meets her johns - no graphic sex but lotsa restaurant porn - and the posh apartment she shares with devoted boyfriend Chris (Chris Santos), a personal trainer hoping to launch a sports apparel line. We see her on a date with a client discussing "Man on Wire," while another offers her financial advice and she inquires after his family. In true American go-getter spirit, she spends downtime developing a promotional website and diversifying her assets. At some point in the shuffled time scheme Chelsea falls for a married West Coast screenwriter named David (David Levien, one of the film's writers) and her desire for a weekend tryst with him becomes a deal-breaker for Chris.
All this is conveyed in a fragmented form reminiscent of the early 60's Godard of "Vivre Sa Vie." "Girlfriend" also scrambles time in a manner that sometimes challenges the viewer's ability to tease out the story. For instance one repeating - and hilarious - scene of hedge-funders on a private jet to Vegas could or could not be the film's "true" ending. And "Girlfriend" continually doubles on itself to comment on narrative and filmmaking. Throughout, Chelsea is being interviewed for a piece on a call girl in a committed relationship by actual "New York" writer Mark Jacobson. A self-styled Erotic Connoisseur (film critic Glenn Kenny, creepily credible) barters the promise of a rave review on his web site for a free sample of the wares. And the poised, if waxen Chelsea is herself a scribbler, narrating in voiceover which designer duds she wore on each date, what was discussed, and her clients' niche desires (did I spot a dude in diapers?). One john even suggests she make a movie to build her brand.
IndieWIRE recently met with Steven Soderbergh and discussed his film's view of late capitalist society, scrambled versus linear time, and the novel just published by his wife Jules Asner.
indieWIRE: I loved this movie.
Steven Soderbergh: Really! I'm surprised.
IW: Why?
SS: Well, because it's very polarizing. I'm surprised when anybody likes it. It's one of those things people either really like or really just want to get away from.
IW: What's not to like?
SS: A lot of it's expectations. What do you want out of a movie to begin with. And then, what do you want the form to take. What kind of performances are you interested in. How do you want the stories to be told. I did an audience test on "Out of Sight." And some guy in the focus group said, I just want to say I hate stories that are told like this, where they don't go in a straight line - and that became a lightning rod and turned the thing into a free-for-all.
IW: Speaking of non linear, I have questions about what happened. David, the guy she's interested in - well, we see the scene of him standing her up towards the middle of the film.
SS: That's right. And the last scene we see of the two of them together was actually the first time they met, when he goes to her hotel room for the first time..
IW: And that comes after he stands her up. Now why would you do that?
SS: The scene of them meeting for the first time has a different weight if you know he's going to betray her. It has another layer of poignancy to me because you see her beginning to be engaged by this guy who's going to, like, emotionally betray her. I just like the idea of that being the last scene [which is the first scene chronologically].
IW: The film continually reflects its own process. Who is Chelsea narrating to in her voice over?
SS: This is something we learned in talking to real escorts. They keep journals about everything. Technical things, so they don't wear the same clothes. They're current on whatever issues their clients are interested in. It's like their homework. All of them told me this is what they do.
IW: Any particular reason you gravitated toward this post-modern self-reflecting structure?
SS: I was trying to just give a sense of what her interior life is like. That her interior life is not linear. The idea of the linear narrative is very much a construct. When you're walking down the street you're aware of the fact that you're walking down the street; you're thinking about what you did before you left this building; and you're thinking about going from this building to your apartment. Your mind is moving in these three realms. And depending on what's going on in front of you, you're shifting the emphasis of each as you walk along. I"m trying to recreate that sense of how our minds are constantly sifting and filtering our experiences and we're trying to connect stuff. Because we're trying to organize this chaos and convince ourselves that there's some sort of narrative here and we're not going insane. And film can recreate that sensation almost better than any other art form.
IW: Better than writing.
SS: Yes, because you don't have to describe things, you can show them. It can be very elegant if you do it well. It also depends on what your goal is with the piece. I'm less interested in the nuts and bolts of the narrative than in you feeling what it's like to be Chelsea for a week. The impulse of the film was more driven by: what's it like to be this person for six days? than: I want to tell a story that goes from A to B to C. It's just an impression of her.

Oscar '09: "Waltz With Bashir" Director Ari Folman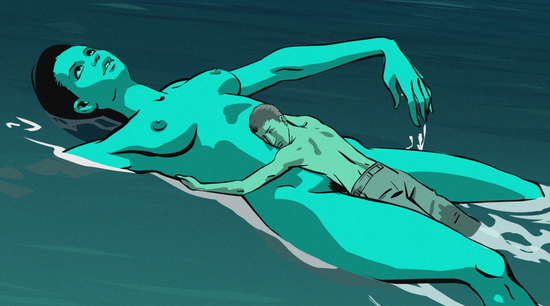 EDITOR'S NOTE: Over the two weeks leading up to Oscar, indieWIRE will be republishing a series of interviews and profiles on the nominees for the 81st Academy Awards.
A trio of naked soldiers stride slowly through the sea past a floating corpse toward a Beirut of high-rise buildings luridly lit by orange flares. This hallucinatory image repeats like a leit motif throughout "Waltz with Bashir," an animated documentary by Israeli Ari Folman about war and memory. At last year's Cannes no one was busting down doors to watch a handful of Israeli soldiers reconstruct their experiences in the first Lebanon War of the early 80's, an event barely familiar to most Americans—though the informed will recall the genocidal massacre of Palestinians that occurred in the Shatila refugee camps. Yet "Waltz with Bashir" was instantly hailed as an original, mesmerizing work that borrows the style of underground comics to explore the intersection of dream and historic fact.
Once you get the reference, the title is a gut punch in itself. The opening salvo: a man is pursued by a pack of ferocious dogs—reminiscent of fantagraphic novels - yet can't identify his "crime." In a bar one night he tells his friend Ari Folman that he suspects this recurring nightmare is linked to his military service in the first Lebanon War. The admission propels Folman, who's needled by his own memory lapses about his army stint, on a quest to discover the truth of that period by interviewing fellow soldiers. Rather than a parade of talking heads pondering the fog of war, Folman offers a grunt's-eye, absurdist view of combat—notably free of theorizing—that uncovers through dream logic and imagery the terrible events that haunt these soldiers. And rather than the rotoscopic wobble favored by Richard Linklater, Folman offers hand-drawn portraits that render his subjects uncannily vivid. "Waltz" is trippy, appalling, sexy, funny, wary of neat conclusions, and unlike anything you've seen.
indieWIRE: Did you always intend to do "Waltz with Bashir" as an animated documentary?
Ari Folman: Yes. I had the basic idea for the film for several years, but I was not happy to do it in real life video. How would that have looked like? A middle-aged man being interviewed about events that happened 25 years ago - and without any archival footage? SO BORING! But if it could be done in animation with fantastic drawings, it would capture the surreal aspect of war. If you look at all the elements in the film - memory, lost memory, dreams, the subconscious, hallucinations, drugs, youth, lost youth - the only way to combine all those things in one storyline was drawings and animation. You know, the question most frequently asked since Cannes is "why animation?" And it's a question that's absurd to me. I mean, how else could it have been done?
indieWIRE: In the film you seem to conflate war and masculinity, as if war were a proving ground for Israeli soldiers. In fact, I was reminded of how Eytan Fox tweaks the image of the macho Israeli.
AD: It's much more complicated than just masculinity. A lot of war - when you're really young—has to do with proving that you're more of a man, what do you think? It's not for ideological reasons that people go to fight. Men go to war usually for the wrong reasons—the wrong ideological reasons as well.
iW: For the character named Carmi war seems to have erotic overtones. He hasn't had much success with women—
AF: Oh, he does now.
iW:—and then gets on a battle ship he calls "the love boat" and dreams he's floating in the sea on top of a giant naked woman.
AF: ["Waltz"] is a very erotic film. I got some extreme reactions to it from one journalist in France. It was embarrassing, a really disturbing interview ...
iW: Do you think it's mainly women who react that way?
AF: I can tell you that it appealed to a lot of women in Israel. They said it was the first war movie - at least in Israeli cinema—in which they could understand the meaning of war. Partly it's the design that contributes to the erotic quality. The drawings, colors, the characters - everything.
iW: How does the design add to the erotic quality of the film?
AF: Look at the motion. People don't walk in reality like they walk in this film. It's a different kind of walk we developed, slow and awkward. We had problems in animation creating this slow movement. It's much easier to make action scenes. So we decided to turn the problem into an advantage. The repeating scene in the water is sexy because it's not a realistic style of movement.
iW: Is sexiness a bit incongruous in a film about a mission ending in a massacre?
AF: To tell you the truth, the erotic was not something that was intended, it just happened in the making of the film. War is a lot of terrible things. It can be like a really bad acid trip. You think, It can't go on any longer, and then it does. I wanted to give that feeling in the film. And the vicious dogs at the beginning get you right into that kind of language.
iW: Why include that scene from a porno movie?
AF: The most common shared memory of people who came back from Lebanon was it was the first time we ever saw porn. We didn't have VCR's in Israel in 1982 - not until 1984. The army invaded a different country and in each house there were VCRs and movies on big cassettes. A lot of people told me, yeah, it was the first time for me to see a porn movie, so I thought I should include it. We had a censored version of the porn scene for the U.S. but these guys here [at Sony Classics] decided not to use that version. The censored version is funnier. Remember that Mark Spitz speedo with stars and stripes? We put stars and stripes on everyone in the porn scene, including the dog.
iW: Can you describe the animation process used in the film?
AF: "Waltz with Bashir" was made first as a real video based on a 90-page script. It was then made into a story board, and drawn with 2300 illustrations that were turned into animation. The animation format is a combination of Flash animation, classic animation and 3D. I want to emphasize that this film was not made by rotoscope animation, meaning that we did not paint over the real video. We drew it again from scratch with the great talent of art director David Polonsky and his three assistants.
iW: You've said you were not influenced by the rotoscope animation of Richard Linklater. So what were your models?
AF: Graphic novels - not something like "Persepolis," but Joe Sacco, Jason Lutes, Chris Ware.
iW: How did your experience making documentaries for TV prepare you for "Waltz?"
AF: I made an experiment in my documentary TV series "The Material That Love is Made Of." Each episode opened with a three-minute animated scene introducing scientists talking about the "science of LOVE." It was basic Flash animation. It worked so well that I knew a feature length animated documentary would eventually work. I think you get enormous freedom with animation and illustrations. It's a really great language for me, the best. You can imagine everything. It can be done if you have the right people, with their own perspective on things. Illustrators are brilliant.
iW: Much in "Waltz with Bashir" is deeply personal, yet it appeals to people very broadly. Do you have a theory about why?
AF: I think that in general it tells you about repression (of memory). And that has universal resonance. Everyone has gone through some event in life that they chose deliberately to forget. It doesn't have to be such an extreme event as war, it could be a broken heart, a loss of family when you were young. You could go down in the street and choose anyone at random, and something occurred to him in life, and he decided, I don't want to deal with it, I'll just go on. Which is probably good.
: You've said you were not influenced by the rotoscope animation of Richard Linklater. So what were your models?
AF: Graphic novels - not something like "Persepolis," but Joe Sacco, Jason Lutes, Chris Ware.
iW: How did your experience making documentaries for TV prepare you for "Waltz?"
AF: I made an experiment in my documentary TV series "The Material That Love is Made Of." Each episode opened with a three-minute animated scene introducing scientists talking about the "science of LOVE." It was basic Flash animation. It worked so well that I knew a feature length animated documentary would eventually work. I think you get enormous freedom with animation and illustrations. It's a really great language for me, the best. You can imagine everything. It can be done if you have the right people, with their own perspective on things. Illustrators are brilliant.
iW: Much in "Waltz with Bashir" is deeply personal, yet it appeals to people very broadly. Do you have a theory about why?
AF: I think that in general it tells you about repression (of memory). And that has universal resonance. Everyone has gone through some event in life that they chose deliberately to forget. It doesn't have to be such an extreme event as war, it could be a broken heart, a loss of family when you were young. You could go down in the street and choose anyone at random, and something occurred to him in life, and he decided, I don't want to deal with it, I'll just go on. Which is probably good.
iW: I've seen your film twice and would go back a third time just for the sound track. You use classical music at unexpected moments.
AF: Yes, the Bach Piano Concerto # 5 repeats three times. And the Schubert sonata opus 959 is transformed into different styles - and plays over the whole ending [live archival footage revealing the Shatila massacre]. Then Max [Richter, a German-born Brit composer] made some electro Schubert for the ending titles. Max writes a combo of classic and electronic music, and performs on a computer with a band and strings. It's pretty cool. He's totally responsible for the music. One song written specially for the film is called "Good Morning Lebanon." In the opening scene with the dogs it's techno, electronic music.
iW: And in the scene on the tanks, when the soliders are firing away, you use a sonic background sound to manipulate - in the good sense - the viewer.
AD: It's the back sound of the film all the time. They invented that sound in the studios, they went in search of it. Putting in the sound is the best part, you're just having fun. We did the mixing in a studio in Berlin that used to be the gym of the Nazi leadership. The foyer was donated by Mussolini. The building and sound facilities were incredible. I was there for six weeks with all these talented German guys and a guy I brought from Tel Aviv. In the dog scene we had 98 tracks that we reduced to 5 tracks on a big mixing console.
iW: Why did the Israeli Left object to the film?
AF: Because they thought it didn't place enough national blame for the massacre.
iW: Well, why didn't you hold the leadership more to account? Sharon was complicit, after all, he allowed the massacre to happen.
AF: I didn't want to make any statement about the leadership. I wanted to recreate the world of the ordinary soldier. There was a commission that found Sharon guilty, he was banned from office for life, then he came back as Prime Minister, came back as a hero, think of it. Those things happen in Israel ... Bottom line, for me it was not a revenge film against Ariel Sharon. As for why he didn't stop the massacre, he's asleep now, so we can't ask him. The whole plan for Lebanon was so sick, to my mind. What the master plan was nobody really knows.
iW: Rather than presenting an argument, this film unfolds with dream logic. How did you structure it?
AF: I'm always on the verge between reality and fantasy and dreams in whatever I do.
iW: You mean, right now, just sitting here?
AF: Yep, but especially when I write. This borderline between reality and dream really blows my mind. For me it's natural. That's why animation is so natural for me, you can go from one dimension to another. This film has a very strong structure in the screenplay -
iW:—of a quest.
AF: Yes, and all the other elements were just supporting. But if you look at the future, probably films will change completely, even if the basic story and storytelling will stay the same.
iW: What's your next project?
AF: I've optioned a novel by Stanislaw Lem, a Polish author who wrote "Solaris." It's called "The Futurological Congress." It's fiction but it's going to have a leading American actress in it playing herself. The present will be live action, the film's future time will be drawn.
iW: As a young draftee, you had your own demons to exorcise regarding the war in Lebabnon. Was the making of "Waltz with Bashir" therapeutic for you?
AF: I'd say the filmmaking part was good, but the therapy aspect sucked.

"Waltz With Bashir" is nominated for best foreign language film at the 81st Academy Awards

Self-Portraits and Biopics Dominate 14th Rendez Vous With French Cinema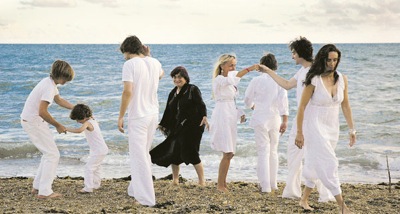 Jean-Francois Richet's "Mesrine" is a bloody, hi-octane account of a legendary gangster. In "The Beaches of Agnes" Agnes Varda looks back at eighty at her own momentous life. Light years apart in spirit, the two films are part of a cluster of remarkable self-portraits and biopics that dominate the 14th edition of Rendezvous with French Cinema. Unspooling at the Walter Reade Theater and IFC Center March 5-15, this year's edition is notable, too, for the accomplished work of women filmmakers, including Claire Denis with her glorious "35 Shots of Rum"; and for selections from auteurs Claude Chabrol ("Bellamy"), Andre Techine ("The Girl on the Train") and Benoit Jacquot ("Villa Amalia"). As well, after a sense that recent Rendezvous were serving up too many "seconds," as we say in the schmatte trade, it's heartening to report that Martin Provost's fest entry "Seraphine" just won seven Cesars, including best picture, while Jean-Francois Richet snagged best director for "Mesrine."
In "The Beaches of Agnes" New Wave vet Varda has contrived a wondrous vehicle for recapturing watershed moments, a kind of cine memoir that filters her past through the many beaches, from Noirmoutier in France to the Pacific in California, that in some way shaped her. Shooting in HD video, Varda includes reenactments of events in her life; old photos (she started as a photographer for Jean Vilar); excerpts from both her own films, including "Cleo from 5 to 7" and "The Vagabond," and those of her late husband Jacques Demy. At times Varda is archly literal, as when she walks backwards or sets up mirrors on the beach that reflect and coexist with "real" water and sky. Continually inventive and playful, the film has the artisanal flavor of something made up as it goes along. So many striking moments: a cartoon cat who comically "interviews" Varda in the electronically altered voice of Chris Marker; a scene from her first film in 1954, projected on a makeshift screen on a moving wagon. And over it all a wash of ironic nostalgia, but also deep sadness. The most moving moments, which catch Varda weeping, display her photos of the beautiful dead - my God, the young Gerard Philippe! - including portraits of Jacques Demy, "le plus cheri des morts."
The second of Rendezvous' luminous cine memoirs - and not to be missed - is "Stella" an account by Sylvie Verheyde of her own coming of age. Stella Vlaminck (tellingly with the same initials as the filmmaker) is an 11 year old girl from a blue-collar background, living in her parents' cafe-hotel—where, she tells us in voiceover, "guys die of cirrhosis and stuff." Transferred to a classy secondary school, she at first flounders, then comes into her own, surmounting the marital meltdown in her family. Dispensing with Hollywood hoopla, this film approaches the triumph over adversity with an unassuming tone, layering Stella's streetwise voice over events that tumble in on you.
"Mesrine" comes in two installments: Part 1, "L'instinct de mort," based on a memoir by Jacques Mesrine; and Part 2, "L'ennemi Public #1," to be released separately. This gangster epic reflects the current predilection of French filmmakers for genre flicks and commercial versus arthouse. If New Wavers Truffaut and Godard found inspiration in American cinema, well, now a fresh generation of Gallic filmmakers is again looking across the pond—Variety dubbed them "French New Wave 2.0." (Other recent examples are "Ne le Dis a Personne" and "Roman de Gare," which lend a French twist to Studio-type thrillers.)
Be forewarned: from its opening scene, "Mesrine" deals in arterial spray, taking violence to new, well, lows. Yet the feral energy of Vincent Cassel (who bagged a Cesar for best actor) and the film's headlong pace make it all compulsively watchable, even when you want to look away. An early scene of Mesrine observing a violent interrogation when serving as a soldier in Algeria suggests that he was either traumatized by or schooled in the brutality he witnessed. Plus dad was a "collabo," which didn't help. Part 1 follows his apprenticeship to sleezy gangster Guido (Gerard Depardieu); marriage and doting fatherhood; a construction stint in Montreal, where he meets soul mate Cecile de France and they brutalize a gullible millionaire. The centerpiece is a daring prison break Mesrine orchestrates with a Canadian inmate, their motto "out or dead." Honorable in his fashion, Mesrine attempts a risky flyby to rescue his prison cohorts, and, thanks to Cassel's charisma, you're rooting for the guy every second. Part 2, which I haven't yet seen, explores Mesrine's talent for playing the media, plotting Houdini-like escapes, and outfoxing the fuzz with ingenious disguises. It's even bloodier, I'm told, than Part 1.
A 180-degree turn and you get Martin Provost's Cesar-winner "Seraphine." The fictional biopic follows the life of Seraphine de Senlis, magically embodied by Yolande Moreau, a washerwoman and maid who secretly paints hallucinatory canvases of flowers, creating pigments from soil, animal blood, and oil filched from the church. Her "guardian angel," she claims, guides her hand when she paints. German art critic Wilhelm Uhde, a collector of Le Douanier Rousseau, accidently discovers Seraphine's outsider or "naif" paintings and gives her a show - but she's destabilized by her new world. Especially luminous are depictions of French rural life and the artist-mentor bond between Uhde and the painter.
Claire Denis's "35 Shots of Rum" marks a fest high point. Alex Descas works as a train conductor and enjoys a harmonious, almost coupled life with his beautiful marriageable daughter (Mati Diop), the situation evoking Ozu's "Late Spring." Familial harmony is disrupted, however, by the romantic urges of a restless neighbor, Claire Denis regular Gregoire Colin. The film lays out an almost plotless story about the struggle to let go and move on, using ellipses you could, well, drive a train through. Daringly, elegantly, Denis keeps life-altering moments out of the frame. Though most of the characters are black, there's no ghetto misery or anger, color is not the main issue. "35 Shots" is a must-see for the way it captures the texture of lived life—especially the dancing scene in a cafe, where the great DP Agnes Godard records the young couple's rapture as only cinema can. Denis is the least literary of filmmakers, taking you where language falters.
Testifying to the broad range of current French cinema, several works in the fest reach beyond personal drama to address concerns of the larger world. Socially engaged Costa Gavras weighs in with "Eden is West," the tale of illegal immigrant Elias (studly Riccardo Scamarcio) from some unspecified locale, who battles to gain a foothold in France. After leaping from a tanker to avoid arrest, Elias swims to shore and wakes to find himself, ironically, in luxury resort Eden Club Paradise, surrounded by nude bathers. Suddenly the story takes on a Candide-like allure, as Elias disguises himself as an attendant, gets groped by a club official and pulled into the bed of a lady from Hamburg. The barbarity of the Haves - a club activity involves hunting down les clandestins with dogs and baseball bats - contrasts with the kindness of fellow pariahs, along with women, who are drawn to Elias's hunky looks. A ride with two weirdo truckers, a stint in a factory, countless flights from the police, and Elias finally makes it to Paris. Though a picaresque string of incidents, the film generates sympathy for this hunted, embattled figure, about as welcome in Eden as a cockroach.
Pierre Schoeller's "Versailles" also looks at the marginalized: a homeless woman and her son, who fall in with a squatter, the late Guillaume Depardieu, living in the shadow of France's great symbol of opulence. After bonding with the boy - temporarily dumped by his mother—the homeless man manages to set him on the good path. This inspirational story is relayed without an iota of sentimentality. How wrenching to watch Depardieu, a strikingly beautiful man and mesmerizing actor, who after a history of drug problems, recently died of pneumonia at age thirty-seven.
I revere Andre Techine, but his "The Girl on the Train," a festival premiere, is not quite up to snuff. The film is rooted in the ethnic and racial tensions roiling France—more precisely, a real life scandal involving a girl who claimed, falsely, that she was molested by skinheads who mistook her for Jewish. At the center is the bond, fractious but loving, between daughter Emilie Dequenne and mom Catherine Deneuve. But the film spins out too many subplots to form a coherent picture and barely makes a pass at understanding why the girl lied. Deneuve, however, only gets better. Watch her face as she struggles to control her dismay when her daughter announces her dubious romantic choice. Jacquot's "Villa Amalia" casts Isabelle Huppert as a woman pianist who, betrayed by longtime bf, literally erases her previous life and lights out for Ischia. There she finds a deserted villa and a female lover. I didn't buy any of it. Looking amazingly girlish, Huppert narrowly misses, in this role, coming off as uber-bitch and becoming a parody of her own hard-edge persona.
Among a subset of lesser films is Christophe Barratier's fest opener "Paris 36" (screening at newly refurbished Alice Tully Hall). It's a kind of real estate musical which, despite its panache, never finds its groove. A fellow named Pigoil (popular comedian Gerard Jugnot) turns his ramshackle thirty's music hall into a cooperative in which all the players have a stake. The launch depends on a new act, talented chanteuse Douce (lovely newcomer Nora Arnezeder). With its fluid camera movements and evocative period sets, "Paris" wants to render homage to retro pre-war cinema, complete with accordion music, the left wing Popular Front, Faschist ruffians, even a Busby Berkley bit at the end. But though Jugnot makes an endearing little guy, the stock situations remain toothless and the sentimentality - which worked in Barratier's "The Chorus"—feels unearned.
Daniele Thompson infuses her mainstream cinema with intelligence and wit - witness "La Buche." "Change of Plans," though, is not nearly so telling as that earlier outing. "Change" follows a group of sophisto Parisians who come together for a dinner party, their thin veneer of civility concealing a host of miseries for which the cure would seem to be a switch of partners. Thompson attempts an innovative time frame, flashing forward and back to reveal how it all shakes down, but the results are more jumbled than illuminating. And except for the superb Karin Viard as a workaholic matrimonial lawyer, the others are hard to like. Oh, and Thompson should lose those coy gyno office shots. The unfortunate "The Girl from Monaco" by Anne Fontaine (who gave us the wonderful "How I Killed my Father") is a tricked-up buddy film with boobs. The misused - though delightful—Fabrice Lucchini plays an uptight lawyer who comes to Monaco to try a case that's so hi-profile, he's been assigned a live-in bodyguard (magnetic Zem Roschdy in a comic turn). Mid-trial, the lawyer becomes the sex slave of a TV weather vixen, which prompts unwelcome interference from the guard and precipitates an absurd denoument.
There is a brand of French whimsy that goes right by me, and it can be found in Ilan Duran Cohen's "The Joy of Singing." A secret service agent, the charmless Marina Fois, and cohort Lorant Deutsch form yet another odd couple, as they track down Jeanne Balibar limning the opera-singing widow of a uranium trafficker. Marina wants a baby, Lorant wants to escape her clutches, Jeanne prefers pop music - does it make sense? Do we care? The film's main distinction is a display of pubic hair design to rival the topiary art of Harvey Ladew. In "The Other One" by Patrick Mario Bernard and Pierre Trividic a fortyish woman (Dominique Blanc) breaks with her younger boyfriend to live an unfettered life, then goes beserk with jealousy when he finds a new partner. This tired tale of obsession is less a movie than fodder for Dear Abby.
But to end on a high note. Hats off to Claude Chabrol and "Bellamy," film #50 I think, his most wicked since "La Ceremonie" and a savory meeting of two legends. Gerard Depardieu as happily married police chief Bellamy prefers investigating law-breakers to taking vacations, so when he finds a fugitive haunting his country place, professional curiosity takes over. After alcoholic younger brother Clovis Cornillac shows up, Chabrol cunningly interweaves the crime story with Bellamy's hidden family history, implicating the seemingly innocent. "Bellamy" broadens the range of the sexually viable if we're to believe - and we do! - that Depardieu, now massively stout, remains romantically active with his wife (lovely Marie Bunel). Fine, but let's cast a massively stout woman in a similar role. Chabrol has said that "Bellamy" attempts a kind of portrait of Depardieu himself, which chimes with the biographical bias of this year's rewarding fest.

"He Didn't Bail, That's a Little Bit Unfair": "The Reader" Director Stephen Daldry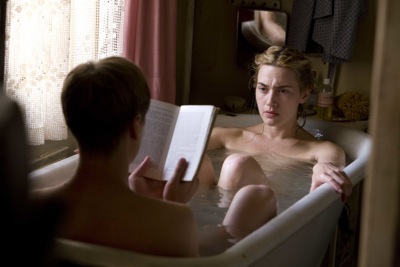 Though literary works are catnip to filmmakers, it's always dicey to reinvent one for the screen. Witness "Revolutionary Road," which will send the unwary viewer reaching for the Welbutrin, despite the best efforts of Kate and Leo, reunited for first time since the boat went down. Trouble is, what often gets lost in the translation to screen is the element which can raise a dark book above merely depressing: language, a writer's capital. Of course, very occasionally a film adaptation can be better than the novel - the case with "The English Patient," which retained the original's powerfully haunting tone, while spelling out the novel's buried plot points.
Now along comes "The Reader" directed by Stephen Daldry, who commutes easily between film ("The Hours," "Billy Elliot") and theater, where he first gained success ("The Inspector Calls," "Billy Elliot"—currently on Broadway). Already there's been critical grousing that Daldry's two hour-plus "Reader," scripted by David Hare, falls short of Bernhard Schlink's 1995 much praised, pared down novel. I would suggest that Daldry's "Reader" falls into a separate category. Rather than viewing it as inferior or equal to its source material, it deserves to be seen simply as a freestanding creation: provocative and likely to divide viewers, affecting, and exquisitely filmed in hues that capture the very quality of memory.
The plot: in post-war Germany teenager Michael Berg (David Kross, later Ralph Fiennes) is drawn into a feverish, secretive affair with 36-year-old Hanna Schmitz (Kate Winslet). Sex is punctuated by Michael's reading to Hanna from books by Homer, Mark Twain and Chekhov. Ten years later as a law student, Michael discovers during a trial for war crimes that his former lover worked as an SS guard. Talk about high concept—you can imagine why this project would have seduced Daldry, whose previous efforts marry bold story arc with social concerns. At bottom, "Reader" is a parable about how second-generation Germans must come to terms with the Holocaust and the role in it played by their fathers' generation. The film ups the ante by tossing a formative erotic connection into the mix, creating an impossible conflict between heart and mind. At the same time, "Reader" avoids any vague notions of forgiveness or redemption. As Michael says, "When I condemned [Hanna's crime] as it must be condemned, there was no room for understanding ... " indieWIRE caught up with Stephen Daldry at the Hotel Carlisle's Bemelmans Bar - complete with gingerbread house—before a lunch with "tastemakers," according to Peggy Siegal. Unlike many filmmakers, Daldry ponders a question as if hearing it for the first time - or maybe wondering why he's hearing it for the tenth.
indieWIRE: Why did Scott Rudin bail?
Stephen Daldry: He didn't bail, that's a little bit unfair. He's one of my oldest friends and I speak to him every day. He withdrew because [lowering his voice] of his relationship with Harvey - they find it difficult to get on together.
iW: David Hare has said that trying to explore and understand Nazi crimes ia "a dangerous and volatile business. You can unintentionally cross a line that you don't wish to." In your view what were the risks of bringing "The Reader" to the screen?
SD: [Long pause] I think that there was a tendency in Germany when they started putting Germans on trial under German law—especially the Frankfurt trials of 1963—to demonize the individuals who'd been involved in mass murder. And retrospectively there was a feeling that the demonization of particular individuals was a way in which the German people could… isolate those individuals and say they were Nazi fanatics or sadists. Whereas the truth, as we've come to know subsequently, is that actually millions of ordinary Germans were involved in the mass murder of the Jews. A lot of serious scholarship—whether it's "the banality of evil" or "Hitler's willing executioners"—is about the ordinary Germans who played a part in the Holocaust, not just the mad fanatics. Inevitably, therefore, if you're doing a film about a Nazi guard who's not necessarily a demon and you see her as a human being, it's a complex issue. As the professor in the film says, 8,000 worked at Auschwitz; only 6 were convicted of murder. It's a frightening statistic.

iW: Cynthia Ozick has said, "['The Reader'] is the product, conscious or not, of a desire to divert [attention] from the culpability of a normally educated population in a nation famed for Kultur." And Frederic Raphael: "no one could recommend 'The Reader' withut a blind eye for evil." The novel has also been criticized for the idea - and I'm speaking of the film as well—that Hanna's illiteracy is somehow an excuse for her crimes.
SD: Obviously Hanna's illiteracy is not an excuse for her crimes, Mr. Schlink has made it very clear that she was involved in a very specific war crime, not just as a passive bystander. It is also true that levels of literacy in pre-war Germany were high. It's also true there were millions of people who were illiterate. There are 80,000 illiterate people in New York City today, according to literacy experts we spoke to. Of the 8,000 people who worked at Auschwitz there were many different stories of how they found their way to be working there. And again some of those stories would include elements of sadism and monsters ... This is one story about one woman who found her way there. But the subject of Mr. Schlink's book has much more to do with moral illiteracy on a metaphorical level.
iW: Yes, you really have the feeling during the trial that there's something wrong with her brain… When she says, in a chilling moment, 'that was what I was supposed to do.'
SD: Because of what I would call moral illiteracy. One of the things when we were filming I spoke to Kate about was a lady who says she has to wash her children. So she puts them in the dishwasher. And you say to her, once you put them in the dishwasher you're going to kill them. And she says, but the children were dirty and I had no other means of washing them. And you say, but you are going to kill the children. And she just repeats the idea that they were dirty ... There's a moral disconnect in the character.
iW: Schlink also acknowledges that he has been criticized for not unambiguously condemning Hanna. And the fact that Michael doesn't either. At the screening I attended David Hare was asked, How are you supposed to feel about Hanna? Are you supposed to excuse her? And he said, I can't answer that, we just throw the story out there. So: my question for you: How do you feel about her?
SD: I think it's unequivocally clear in the film that she's a war criminal.
iW: Yet there's audience sympathy for her because of her intimacy with Michael.
SD: If you're following the story of a human being there are times when you sympathize and times when you are repelled. If you're telling a story about a real human being and not a monster, there are going to be moments when that person has real blood and real feelings and real thoughts and a real imaginative world—yet gets involved in war crimes. That's true of Hanna and a variety of genocides that we've seen post-war. If we start restricting genocide to monsters I think you're in very dangerous water because it's a facile and dangerous excuse for the reality of real people being involved in terrible things… Demonic things have been perpetrated by real people, not necessarily demons.
iW: A tricky distinction.
SD: The other analogy I'd use: There's been much written about wives who find out their husbands watch child porno on their computers. And sometimes those marriages are with children. Does that mean their marriage was entirely invalid for whole years? Does that invalidate the father's relationship with the children and the children's love for their father? Does that mean that that man is only a monster and should never be spoken to again? Does that mean that love never really existed and it was a lie? And why, if that's the case, do so many women whose husbands are tried for sex crimes continue in their marriage? Things are complicated, not black and white. If you want black and white, people should go watch cartoons. If we live in the cartoon world with goodies and baddies then the world is a very dangerous place, as we've seen in the U.S. and their foreign policy for the last 8 years.
iW: Some critics feel Hanna is opaque, that she never comes emotionally alive.
SD: I have no response to that. She's a complex character and you have a whole variety of conflicted emotions towards her. What's hard for people when they describe her as opaque is that they don't understand her motivations. And I think that's great! It's not all wrapped up—one plus one equals two, two plus two equals four. It's how Mr. Schlink wrote her and David wrote her.
iW: Why didn't Michael tell the court she couldn't read?
SD: Why do you think?
iW: Out of respect for her shame over being illiterate?
SD: And/or?
iW: I can't think beyond that.
SD: There's not one motivation - there's a number of motivations. Michael says to the professor he couldn't possibly talk to her. And what we do know is how impossible it is for that generation of Germans to talk to their parents and teachers and pastors. So the idea of getting into a dialogue with someone who has perpetrated a great evil is hard - [especially] somebody you love. Michael says in the film he doesn't reveal her illiteracy because she's ashamed. But how much of that is out of respect for her and how much out of his own sense of profound hurt and anger? I'd say it's a combination of emotions, not just one.
iW: Another question about motivation: Most of us manage to experience first love without becoming, like Michael, emotionally crippled. Is he plausible, or does his story shade into parable here?
SD: I think that in simple narrative terms, it's not just because it's his first love - it's because he discovers that his first love is the perpetrator of a great crime. You love with innocence and purity, whether you're a child or a young man - and then that innocence is dirtied and sullied by knowing you were dealing with someone who did monstrous acts. As a representative of the German second generation, he feels emotionally tarnished and discombobulated profoundly in his ability to love
iW: David Hare made a point of saying he considers voiceover a cop-out. How then did he decide to structure this first person narrative?
SD: You have to find an equivalent in film language. In the book, the author's act of writing is the act of coming to terms with the past. So in the film you could have a man at the typewriter at the beginning, then at the end. But you have to find an equivalence to the confessional urge that he has in the book, that need for truth and reconciliation… Michael's need to describe the story to the next generation in the hope of cleansing - and that's represented by his daughter.
iW: So the entire story that he's about to recount at the end of the film to his daughter circles back to the beginning.
SD: Correct.
iW: Why did you cast David Kross as Michael. You found him when he was 15?
SD: I found him at 16, started shooting when he was 17, and we filmed the intimate scenes when he was 18. He is a very serious and very wonderful and very smart and very secure young man.
iW: Did he have to audition nude?
SD: Certainly not. Are you mad?
iW: Do you have difficulty switching back and forth from theater to film?
SD: I'm comfortable in both mediums. The next thing I'll do is a little play of David Hare's at the National Theatre. It's called "Berlin," he wrote it while we were filming there.
iW: I was struck by a quote from you in The Advocate. When people heard about the birth of your daughter, they'd say, does that mean you're not gay anymore? And you apparently said, oh give me a break. We wanted to have kids! We're allowed to do everything. I can have kids if I'm gay. And I can also get married and have a fantastiic life. To all questions regarding my marriage the answer is 'Yes.' 'Yes!' to everything… Would you say your lifestyle is unusual?
SD: I wouldn't have thought so, no, not in New York City.
iW: How do you balance all those roles?
SD: Oh, it's not that hard. There's many more tricky things. You should see all my fucking straight friends - how do they balance all their mistresses? I think my life is incredibly secure, sane, and stable. I have the best marriage in the world.
iW: Getting back to "The Reader," what was the most challenging aspect of the shoot?
SD: Coping with Anthony Minghella's and Sydney Pollack's deaths during filming, that was a tricky one. It's very interesting—I have to say this back to you—why on earth do you want clarity in character motivation? I just don't understand it, it's come up a few times before. Why is there a need to reduce character motivation to simple cause and effect? The great thing about Michael is he's the classic inactive hero. If you go to the inactive hero—say, Hamlet—and you try to, you know ... well, why doesn't Hamlet just go and sort it out? Why doesn't he just go and say to Claudius, you know - STOP IT! Well, you wouldn't have a play, would you. The point is he doesn't. Why doesn't Michael say out loud Hanna can't read and write. Well, he doesn't! That's not the problem, that's what makes it interesting. That's what cripples him. He betrays her three times. And he does feel it's a betrayal. D'y know what I mean?
iW: I do.
SD: I'm much more interested in Aristotle as a route to character. He says there's no such thing as character—character is only the amalgam of all the things you've done in your life and character can only be seen retrospectively. It's also late Stanislavsky. But Americans like the neat wrap up, they love things all tied up!
iW: You'll have to contend with that.
SD: I know, [there's] people going, but WHY? But there we are ...

Francois Ozon on "Swimming Pool": Fantasy, Reality, Creation
July 2, 2003
indieWIRE by Erica Abeel

Ludivine Sagnier stars in Francois Ozon?s new film "Swimming Pool," which opens in the U.S. this week.
Courtesy: Focus Features
*Francois Ozon* has been called current French cinema's enfant terrible. But he shrugs off the expression: it's rarely used in French, he says, and he harbors no conscious desire to shock. Yet provoke and unsettle he does. Often compared to Hitchcock and Chabrol, in just a few years, Ozon has carved out his own niche with an eclectic cluster of films marked by transgression, bizarre humor, and a masterly control of pacing and tone. Whatever else, Ozon takes you to dark regions where you've never been.
After graduating from FEMIS, the prestigious French national film school, from 1986 to 1990 Ozon turned out 30 Super 8 shorts. His debut featurette *"See the Sea"* (1997) sparked instant controversy on the fest circuit. A creepy tale of a young mother alone on a seaside vacation who opens her home to a surly backpacker, the film is a gem of psychosexual horror (and was inspired by a real-life crazy he knew in film school). It displayed from the start Ozon's ability to convey a sinister subtext without overt cues.
After "See the Sea," Ozon, now 36, never looked back, at one point making two films a year. *"Sitcom"* (1998) is a dark comedy about a middle class family that crackles with perversity. *"Criminal Lovers"* (1999), an exercise in sexual brutality based on a true crime, follows a homicidal teen couple who hole up in a forest cabin and become prisoners of a lecherous woodsman. It's been called a gay S&M fantasy based on "Hansel and Gretel," Ozon's favorite fairy tale.
Adapted from a play by Fassbinder, *"Water Drops on Burning Rocks"* (2000) charts the sexual power games of a na?ve young man and his older tyrannical male lover -- a film that reflects, Ozon has said, his own romantic upheavals. In the same year, *"Under the Sand,"* a haunting and ambiguous exploration of mourning, brought Ozon wide critical acclaim -- and rejuvenated the career of *Charlotte Rampling*. Inspired by a 1960s crime play, Ozon turned another 180 degrees to create *"8 Women,"* a campy murder mystery cum musical, which gave him international cachet.
In his new, much anticipated *"Swimming Pool,"* (shown in competition this spring in Cannes), Sarah Morton, a Ruth Rendell-type crime writer played by *Charlotte Rampling*, travels to the Provencal country house of John, her publisher, to recharge her creative batteries. There she locks horns with John's sexually avid daughter Julie, played by Ozon muse Ludivine Sagnier. The film mingles Ozon's preferred themes of sex and murder, challenging the viewer to distinguish between the "real" and the imagined world of Sarah's ongoing novel.
Ozon's earlier work tended toward autobiography. Now, with "Swimming Pool," he has come full circle and again turns the camera on himself. indieWIRE spoke with him at Park Avenue's posh Regency Hotel (a *Focus Features* choice; he's more of a downtown guy.) Casually elegant in a pinstripe jacket and white shirt open at the neck and cuffs, Ozon actually seems to enjoy the onslaught of journalists, laughs often, and has the disarming good looks of a slightly dangerous choirboy. "Swimming Pool" opens Wednesday.
*indieWIRE*: Isn't it tiresome to be asked the same questions by journalists?
*Francois Ozon*: Well, "8 Women" was really boring, because everyone asked about the actresses. Ask me about myself; I prefer it. Especially since 'Swimming Pool' is a self-portrait.
*iW*: It's a film about a mystery writer who gets entangled with her publisher's daughter. So how is it a self-portrait?
*Ozon*: I'm actually talking about myself, my own creative method. I wanted to show how I work -- since journalists always ask me, "Where does your inspiration come from, that you can make a film every year?" I wanted to show that I have no trouble coming up with ideas -- my head is full of stories. The issue for me is desire. Choosing the right story that's going to have staying power. It can't just be a two-week affair; the desire must last six months, since making a film lasts at least six months or a year.
*iW*: So it's a risk.
*Ozon*: Always. You have to be absolutely sure of what you want to do. Then not only make the film, but still want to do promotion and the rest afterwards. You keep company with a film a long time. But I can sense which stories have only a fleeting interest for me. Others hang around obsessively in my head. I'm very close to my unconscious when I work.
*iW*: Your cinematic self-portraits are filled with mayhem. Where do the perverse, homicidal impulses come from?
*Ozon*: My parents taught me something when I was young: when you create something artistic, you can throw in all the horrors of life, everything you would never actually do, all sorts of violence -- it's an art work, so it's okay. As a child I was allowed to read Sade because it was imaginary. *Fritz Lang* once said, "If I hadn't become a director, I'd be a murderer. Better to have murders in movies than life."
*iW*: So these violent impulses are a part of you?
*Ozon*: Just like everyone else. We're all potentially murderers. You have murderous impulses too.
*iW*: I'm not particularly in touch with them.
*Ozon*: Whoa, that's dangerous! [We laugh]. The role of the artist is to be close to those impulses and express them for everyone else. Why do you think there's so much violence in movies? And why are all those violent American movies so successful? Because everyone has those tendencies. And seeing them on screen is cathartic.
*iW*: Can you imagine making a film about a happy straight couple?
*Ozon*: That's exactly what I'm doing now! It's a love story about straights called "5 X 2.'" It's about five important moments in the life of a couple. Like Bergman's *"Scenes From a Marriage."*
*iW*: That couple wasn't so happy.
*Ozon*: Mine isn't either. There are happy and unhappy moments. I'm not yet sure how it will all turn out, because I haven't finished the film yet. But overall, it's a fairly dark vision of couples. I'm a realist and I think couples always end up badly, don't you?
*iW*: Are you part of a couple?
*Ozon*: [Laughing] Oh, that's in the works. I've had a lot of couple experience and I know that things usually turn out badly, but that's okay. It's all part of life. What I care about is lucidity, because that makes happiness possible.
*iW*: Besides releasing your antisocial impulses, what drives you to make a film?
*Ozon*: The pleasure of imagining a story and embarking on an adventure. The idea that something that starts really small, with a discussion with an actress in a café, at the end of six months is something substantial. Something that's been in my head is transformed into something real, which millions of viewers get to see. I find that very exciting. I like every stage of filmmaking -- but writing the least.
*iW*: Did you collaborate on the script with *Emmanuele Bernheim*, as in "Under the Sand?"
*Ozon*: She didn't co-write it, but I need to speak with her a lot because my films often deal with women and I need the feminine POV to check out my accuracy.
*iW*: Initially, you planned to make Julie, John's daughter, a young man. Why the change?
*Ozon*: Early on I realized that if I did that, I'd fall into a cliché of French cinema: older woman/young man. I thought I'd already seen that film with *Isabelle Huppert*.
*iW*: Tell me how you use music in your films -- for example, the Mahler 5th in "Water Drops" is so evocative.
*Ozon*: Oh, it's meant to be very ironic! That's the music Visconti used in *"Death in Venice,"* for Dirk Bogarde and Tadzio, another story of an aging man and a young boy.
*iW*: And the insinuating score in "Swimming Pool?"
*Ozon*: What's interesting for me is that at the start you can't exactly make out the melody, just a few notes. And as the film unfolds, the more the melody develops -- which parallels the inspiration of Sarah. In the beginning she doesn't exactly know where the story will take her. And little by little the plot of her book becomes clarified. The music parallels that process. I like to use music as an element of storytelling.
*iW*: Several of your films use the same intriguing shot: the camera pans slowly from a character's feet to face.
*Ozon*: I think it's a way of caressing. When you touch a body you begin [he laughs] with the feet and move up to the face. It's a way of caressing the body of the actors, of touching with the eyes. That's how the viewer feels Ludivine's and Charlotte's bodies.
*iW*: Yet the shot can turn menacing. When you see the hairy legs of Frank [a local bartender] standing over Ludivine sun-bathing, then the gardener's...
*Ozon*: Yes, but I think that danger and menace are also part of sexuality. When there's danger, sex is more exciting. It's part of the sexual game. Transgression and danger increase arousal.
*iW*: Are your very different films linked by common themes? Is there an auteur signature?
*Ozon*: Yes, I think so, but I don't analyze my films. That's your job as a journalist. But the films do share common obsessions. "Swimming Pool" reflects my personal obsessions about creating, and, since it's a film about inspiration, contains many references to my other work. That caressing shot is also in "Water Drops." The relationship between Ludivine and Charlotte refers back to "8 Women." "Swimming Pool" also resembles "Under the Sand," since both those women live in their heads. But Sarah's imagination is yoked to creativity. While the woman in "Under the Sand" creates a fantasy life to make her mourning more bearable. But she's headed for madness -- we don't know if she's gone mad at the end.
*iW*: Why has *Ludivine Sagnier*, who's acted in three of your films, become a muse?
*Ozon*: Because she's /une actrice de composition/ -- she can disappear into her character. I like actresses who can transform themselves. And Ludivine is very young, I can mold her. She doesn't yet have an image. I can shape characters on her. She gives me confidence. We're very good friends, too, and it's fun to work with her.

Francois Ozon with Charlotte Rampling on the set of "Swimming Pool."
Courtesy: Focus Features
*iW*: But with Rampling, you always think, That's *Charlotte Rampling*.
*Ozon*: You can play on her image too, but differently. "Under the Sand" is a virtual documentary about part of her life. But in "Swimming Pool" she creates a character she doesn't resemble. And I wanted to have fun with the stereotype of a frigid British spinster.
*iW*: And what do you have in common with such a person?
*Ozon*: I have a bit of English old maid in me. [He laughs]
*iW*: What's your English old maid side?
*Ozon*: It's, uh...I can't tell you. [Laughter] Maybe my way of working and finding inspiration. My need to cut off from the world. I need calm to concentrate. And I can be quite rigid at the start of a project. I like to isolate myself in the country. I think that writing a mystery and a screenplay are quite similar. In both, plot and details are important, but not style. Mysteries are not great literature. And a screenplay is just a blueprint for a film.
*iW*: The big tease in this film is how the imaginary and the real link up. Is there a discrete moment when the real veers into the imaginary?
*Ozon*: I don't want to give you the key. I myself have an opinion about it, obviously -- but I wanted to keep the film open-ended and let every viewer imagine what he wishes. It's a movie that gives viewers the freedom to make their own film. I wanted to show that when you create, the lived, the imagined, and the written get all mixed together. When I make a film, it's as if I'd lived it. You share many emotions with the actors and characters. As I said before, when there's a murder in the film, I myself commit it, too. "Swimming Pool" keeps everything on the same plane: fantasy, reality, creation.
*iW*: Question: when John phones Julie in the country, and Julie hands the phone to Sarah, he's not on the other end. So what piece of that was real?
*Ozon*: What did you think?
*iW*: I didn't know what to think.
*Ozon*: Me neither. I wanted you to wonder: was it really John? Is Julie for real? Is she lying? Is John avoiding Sarah out of guilt?
*iW*: So this film is a kind of puzzle.
*Ozon*: Exactly. And it's full of false starts. It's like that when you create a story. You begin in one direction, then take another. The viewer thinks there's going to be a lesbian liaison between Charlotte and Ludivine -- but it turns maternal and tender. I thought it would be too obvious to get them into a sexual relationship. I lay down all sorts of clues, then choose one or another direction.
*iW*: The final scene at John's office is a mind-twister. Did his daughter ever actually go to Provence?
*Ozon*: What did you imagine? Okay, I'll give you my version. [He does, but I won't spoil the film by revealing it here.]
*iW*: Why the title "Swimming Pool?"
*Ozon*: The pool is like a virgin screen before the filmmaker writes on it. And it's Ludivine's habitat, the place where Sarah creates her.
*iW*: Why do you turn out films so fast?
*Ozon*: That's my rhythm. I like to keep moving forward ? I don't need five years, like Kubrick. For me, if a film isn't completely successful, if it's not a masterpiece, it doesn't matter. Maybe I'll get it just right the next time out, or before long. I don?t look back. When a film is finished, it's finished. It's just like in love -- I need to keep moving.