Order From: Amazon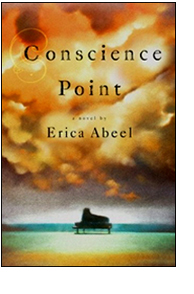 WELCOME! I'm delighted you've arrived at my website to greet my new novel "Conscience Point." The book – my fifth — was a long time coming – partly because I also teach, write film features, and hang with my wonderful family; but also because this story of a woman's journey found its shape according to its own inscrutable calendar.
"Conscience Point" sprang from many sources, one a visit to 19th century writer George Sand's manor house in deep France, where I'd traveled on assignment. Sitting on Sand's evening terrace sipping a Kir; wandering the country roads after dinner — with a stop at Sand's moonlit graveyard — I knew I had to set a scene in this spot.
Some of the hauntedness of that place rubbed off on "Conscience Point." It's about a mysterious love with two faces; and about nostalgia for the sort of youthful passion that's seldom equaled in later life. A genre-bending novel (as we say in film-speak), it mixes heartbreak and Gothic atmospherics with a biting satire of East Coast high fliers. Since my heroine is a concert pianist, it's a novel filled with music and inspired by music — in particular, Chopin's "Harp Etude." I designed "Conscience Point" to keep your fingers turning pages. And I hope you'll also feel buoyed by a story about soldiering on when your old world collapses, finding renewal beyond revenge, and reinventing your life.
CONSCIENCE POINT
By Erica Abeel
This genre-bending novel mixes shocking heartbreak, Gothic atmospherics, and an exquisite satire of New York's high-stakes players in a story that promises something for everyone.
A talented and successful woman entranced with a mega-wealthy family. A shocking betrayal that exposes the myriad pasts of characters "rotten with secrets". A good healthy dose of mother-daughter drama. And the realization of a dream…reclaimed later in life.
Publication date. October 14, 2008
QUOTES
"Erica Abeel's Conscience Point is very sharp indeed…funny and sexy and smart… you'll fly through it." — Alan Furst, author of The Spies of Warsaw: A Novel
"Abeel's fifth novel is an engaging read with plot twists and complex characters….Echoing Evelyn Waugh's Brideshead Revisited…this is ultimately a story about retaking the road not taken and reclaiming one's purpose in life. – Library Journal
"An elegantly written, sharply observed saga, swirling with dark secrets and strong personalities. Conscience Point is a wholly satisfying read–enticing, suspenseful and difficult to put down."
— John Berendt, author of The City of Falling Angels and Midnight in the Garden of Good and Evil
"I had a very good time reading Conscience Point, savoring both the elegant prose and the page-turning story."
— Hilma Wolitzer, author of Summer Reading: A Novel and Hearts: A Novel
"Conscience Point is a rare novel, gracefully written, deftly unfolding its chilly secrets, exploding with witty little gems on almost every page. It's a gripping story that could have happened in real life." –Marion Meade
CONSCIENCE POINT – REVIEWS
www.linussblanket.com
"Conscience Point' reaches out and touches so many genres that whether you're looking for Gothic, suspense, mystery, romance or a literary novel, you've come to the right place."
This is my first time reading anything by Erica Abeel and the fact that I have already placed an order for her first book should clue you in a little bit on how much I enjoyed this deceptively short modern gothic novel.
When we first meet Madeleine Shaye her life has already fallen apart, and she is contemplating the hows and whys of this as she sits and attempts to write a memoir, which slips from first person into third when she discovers her story is too painful to tell from up close. She finds that for most of her story, she needs to have some distance.
Though she can never truly pinpoint when it all starts to go wrong, she gets a big wake-up call while she is vacationing with her boyfriend, wealthy socialite and book publisher, Nick Ashcroft. When he tells her that he not only regrets not having a child, but that he would like to have a child- even though she already has a college aged daughter, and their plans have never included children, Madeline is rocked to her core. She wonders what is really driving this sudden announcement. At home she finds that her adopted daughter, Laila, darkly hints at wanting to run off and move to Guatemala and she struggles to stay relevant in her dual career as a pianist a high brow music tv correspondent. It's hard to hold everything together when it decides to fall apart all at once.
Conscience Point is an ambitious novel in a lot of ways. The language is rich and dense while being haunting and beautiful. It has its own particular cadences and rhythms. I have to admit that I struggled with this the beginning. In addition, it is very, very smart. The barbs and the social commentary buzz along underneath each sentence and with each exchange between the characters. If at any point I was tempted to put this down, it was in the beginning where I was a bit overwhelmed by the language and all that was going on. Abeel chooses to move back and forth through the past and present, letting the story unfold in smart little pieces. Once I was able to get my bearing, I was hooked. There were so many surprise and turns of plot as the story winds it way through to its conclusion, which truly kept me guessing.
Just one of the places where Abeel excels is in characterization, and not just with the people, but with places- like the gothic old house and estate of Conscience Point, its inhabitants, but also different subjects. Madeline Shaye's life is deeply submerged in music and that aspect is richly explored in the novel through beautiful descriptions of classical music, the lives of George Sand, her lover Chopin and Madeline's intense relationship with her old friend and fellow musician Anton. I love the way I really got to the characters in all their good points, flaws and complexities.
Throughout the novel, I had uneasy suspicions of what was coming next, so there was always this wonderfully disturbing tension as I was reading, and I was never disappointed whether I was on the right track or the wrong one. Even in suspecting what was going on, there is so many delicious twists and surprises that you always only know half of the story. This novel reaches out and touches so many genres that whether you're looking for Gothic, suspense, mystery, romance or a literary novel, you've come to the right place.
November, 2008
More.com
New Books: Fall Releases – Review by Carmela Ciuraru
Turmoil in midlife is the subject of Abeel's novel, described as a "Gothic modern tale, complete with family curses, unquiet spirits, forbidden love." Maddy Shaye seems to have it all: a close relationship with her 19-year-old daughter, Laila, a distinguished career as both a concert pianist and a TV journalist, and a boyfriend, Nick Ashcroft, whom she adores despite his often moody temperament. But life starts to falter when Nick, an editor at a publishing house, hires a sexy Brit as a publicity director. At the same time, Maddy grapples with her daughter's decision to drop out of college, and the possibility that her high-profile TV job isn't secure after all. She finds refuge at Conscience Point, the Gatsby-esque estate on Long Island owned by Nick's family. The novel skips back and forth in time as she writes what she calls her "faux memoir," admitting that she's chosen to hide behind the third-person voice. "Brings distance, as they say," she explains. "Keeps shame at bay, or makes it easier to be shameless." Over the course of the story, Maddy reveals the "tortuous path" that now binds her — in ways more complex than she could have imagined — to Laila, Nick, and Violet. The Ashcrofts are an old-money family, and with that lineage comes the requisite scandalous family secrets — a "compost of lies," as Maddy calls it. The plot crescendoes to a melodramatic height as those dark secrets are revealed and various betrayals come to light. In the end, Abeel manages to tie together those strands in a way that's satisfying without being sappy. Maddy, whose ultimate triumphs are quite hard-won, is a highly appealing protagonist. She's still hungry for drama and passion in midlife, yet yearning for a sense of calm as well.
October 30th, 2008
5.0 out of 5 stars Beautifully written literary novel.
By Christina Lockstein (Oconto Falls, WI USA)
TOP 500 REVIEWER
Conscience Point by Erica Abeel is one of those literary novels that's difficult to describe in just a few sentences. Madeleine Shaye thinks her life is just about perfect. She's a successful concert pianist who also works as a reporter for a national cultural arts TV show. Her daughterLaila is going throw normal college-age growing pains but is her best friend. And her long time lover Nick is still just as charming as when she met him thirty years ago. Together they live in hisHamptons mansion from the book title. But cracks begin to form in the foundation of her world, and Madeleine is shaken to the core as everything that matters is taken away until all that is left is self. Conscience Point serves as more than the name of Nick's family home, it's also an excellent description for the narration of this dreamlike novel.Abeel does a wonderful job of portraying just how caught up in our own narrative we can get not seeing the truth of situations are realizing how other people may view the same circumstances. The writing is almost stream of consciousness at times, with a fevered, dream-like quality. The reader is carried along with Maddy's intense emotions until she comes to find strength and purpose within herself. It's an astonishing narrative of one woman's life.
October 26th, 2008
The Boston Globe
The glamorous and careless Ashcrofts – sister and brother Violet and Nick – invite Maddy to enter their enchanted world. She is the talented, beautiful commoner who is seduced, exploited, and abandoned by them. As an East Coast college girl, she falls first for the sister, later for the brother, but her chief attachment is to the place – Conscience Point. Self-consciously contrived as a Yankee "Brideshead Revisited," Erica Abeel's novel has as its center a Gothic fairytale castle, "an assemblage of greystone peaks and towers, an actual crenellated tower with four upthrust parapets."
Playing Violet and Nick's grand piano, drinking their wine, prancing on their lawn and swimming naked in their surf, Maddy succumbs to the impossible beauty of it. Adolescent idealism, sensual satisfaction, and sexual awakening are a powerful mix, and, under their influence, Maddy swears her fidelity to art and love and Violet. Keeping faith with Violet, she adopts a cinnamon-skinned child and raises her as her own. Disregarding Violet's and Nick's warnings and dismissing her own doubts, she later takes up with Nick. Both sister and brother hurt her, then attempt to reclaim her love and trust. They are careless rich people, used to letting others clean up their mess. Maddy accepts that it is her job to restore the castle, transforming the facts of family chaos into possibility for artistic creation. And Abeel, providing the neat closure that Evelyn Waugh rejects, rewards Maddy, the true and feeling artist, by choosing her as the rightful heir to Conscience Point.
October 22nd, 2008
Booking Mama
Summary: A talented woman becomes entranced with a mega-wealthy family in a story about a mysterious love with two faces; the battle to stay relevant in the post-literate world; a shocking betrayal that exposes the past of characters "rotten with secrets"; and, finally, the passion to reclaim old dreams. This genre-bending novel mixes heartbreak, Gothic atmospherics, and a satire of New York's high-stakes players.
Conscience Point is about Madeleine Shaye, a beautiful over-achiever with a dual career as concert pianist and TV arts correspondent; her adored college-age daughter, adopted as an infant under murky circumstances; and a blissful relationship with editor Nick Ashcroft, scion of an uber-rich family (whose sister earlier played a decisive role in Maddy's young life). Then it all unravels. Maddy loses her footing in a late-90's marketplace skewed toward youth and pop culture. Her daughter announces she's leaving college to work in Guatemala, hinting darkly at mysterious trouble. And Maddy discovers that Nick has betrayed her in a way she could never have imagined. Her tough resilience, ability to love and sacrifice while making moral choices informs the emotional center of this novel.
The intimate drama of a family shadowed by the past, Conscience Point captures the struggles of accomplished baby boomers (and NY social circle insiders) and scrambling to re-invent themselves and stay afloat in the post-literate age (says Maddy, "I won't move over till I fall over"); offers smart, enlightening observations, information and descriptions of the world of music; lampoons the elitist NY artsy community; satisfies our prurient hunger to eavesdrop on and judge the almost too decadent, consequence-free lives of the mega-rich. Set in part at Conscience Point, Nick's crumbling family estate, this genre-bending novel also draws on gothic conventions as it uncovers dark secrets while at the same time it plumbs a touchingly human nostalgia for the sort of youthful passion that is seldom equaled in later life. — Unbridled Books
Once again I have to thank my friends at Unbridled Books for sending me a beautifully written novel. This time it was CONSCIENCE POINT by Erica Abeel. I have to admit that I probably wouldn't have picked up this novel on my own, but I'm very glad that I finally got around to reading it. This book was one that held my interest and definitely kept me guessing (and thinking) until the very end.
Reading CONSCIENCE POINT was way out of my normal confort zone, and I wasn't sure I was going to enjoy this novel. The plot sounded interesting enough, but the first few chapters were kind of difficult for me to get through. I had to re-read many of the sentences because I wasn't "getting" a lot of the author's references. Once I got past that and starting really understanding the characters, I began to appreciate the author's beautiful writing style. I'm not sure that this would be a problem for most readers — I'm just not that familiar with the New York art and social scene.
What I enjoyed the most about this novel was the mystery aspect of it. From the start, it was apparent that there were some mysterious circumstances surrounding the parents of Maddy's adopted daughter. As the book goes on, the reader eventually learns who her mother is; however, even that doesn't even appear to be certain. I loved how this storyline had so many twists and turns. At some points in the book, I was absolutely shocked and couldn't put the book down until I felt like some of the issues were "resolved." I was definitely kept guessing right up until the end, and I continued to think about this story even after I finished the novel.
I am not familiar with any of Ms. Abeel's other novels (CONSCIENCE POINT is her fifth), but I was blown away by her amazing prose. While I wasn't that familiar with the New York art or social scenes, her descriptions were so detailed and rich that I had no problems picturing them. From the French countryside, to the family estate, to the concert piano scenes, Ms. Abeel made all of them come to life in this novel. I loved how her writing was so smart and funny. Her observations about New York society life were often times hilarious.
I especially appreciated how the author was able to develop the characters so well. Even if I didn't really like some of the characters, I still understood them and the reasons behind their actions. Many of the characters in this novel are extremely memorable and will stay with the reader for quite awhile. I also liked how Ms. Abeel presented this story and thought it was extremely effective. This novel is very well-told and unfolds perfectly as the narrative goes back and forth between the past and present day.
This book has a little something for everyone — romance, mystery, intrigue, secrets, high society, and even dreams; and as a result, I think it would make for a wonderful book club selection. There is just so much to talk about this novel, and there might even be some issues that will cause member to disagree (not in a bad way, but in a "expand your horizons" kind of way.) After reading this novel, with all of its crazy twists and turns, and with all the heartache and sadness, I think what I was most left with was the realization that it's never to late to realize your dreams.
October 15th, 2008
The East Hampton Star
Hamptons Gothic – "Conscience Point"
Review by Regina Weinreich
Old Hamptons houses and their environs are rife with possibilities for melodrama, stages for scandals, and dark desires. Think Waugh's Brideshead, Dickens's Bleak House, and Bronte's Wuthering Heights.
Erica Abeel, a novelist, journalist, former dancer and professor of French literature, and part-time East Hampton resident, knows the terrain well and imagines this potential in her new book, the entertaining novel "Conscience Point" — all puns on the title intended.
Ms. Abeel's protagonist, a concert pianist and TV arts correspondent, Madeleine Shaye, is sucked in by the seductive Ashcroft family of Conscience Point, and has liaisons with both brother Nick and sister Violet. She tells all in the memoir within this novel, a device through which Maddy can set the record straight, or "such is human vanity — to put the world on notice that our little caravan passed this way."
It would be shameful, a spoiler, to reveal exactly what these relationships are in this richly drawn portrait of an ambitious yet appealing parvenu's encounter — indeed, collision — with the wealthy and entitled.
Contemporary, with references to Manolo Blahniks and their cheaper copies in Harry's Shoes, Ms. Abeel's writing features a savvy, satiric view of the back-stabbing publishing and broadcast industries, as well as the classical music world, offering many smart caricatures: "Rowena Grubb, emaciated in crimson pajamas, swooped down on Maddy. 'How are you my darling?' She had the haunting gaze of prehuman intelligence. The light of dusk was pitiless. Rowena's face was smoothed so tightly upward and out, it left nowhere for her smile to go."
And colorful, apt asides: "It being a weekday, most of New York's viable citizens were vertically stacked in airtight office towers. Only the seniors, the downsized, and the homeless were about. Plus your odd lunatic in orange dreads, manning a shopping cart resembling a mobile yard sale. And your backlash stay-at-home moms, piloting Aprica Cadillacs . . . containing giant toddlers who could have been pushing them. 'I was tempted to steal our Jack Russell's Valium,' one mother said loudly. The mothers talked superloud to drown out their sense of inconsequence in a city where only those consumed by busyness could claim to exist."
Ms. Abeel is good at incorporating shrewd observations into a structure evoking the literary traditions of Waugh, Proust, Dickens, plus a touch of Stendhal, Nabokov, and Roth. A long-dead character is named a Brontean Linton.
The Dickensian twists involve a hushed-up murder, a mysterious birth, potential incest, a mother and daughter involved with the same man, confrontation ("You fouled your own nest. It's monstrous. Any decent person would take a deep breath and count to ten. You were the adult"), and a near-fatal car accident on a storm-hounded road ("She saw it unspool in slow motion: the Lexus aquaplaning on the flooded bridge, the green car floating into the black chop, Nick hampered by booze and fumbling to open the door, which self-locked, against the crushing weight of water; saw him entombed in his coffin of fawn leather, lungs flooded, hair streaming upward in the murk, eyes open and sightless like Linton's angel in Green Glen . . . God tidying the ledger —").
Could more drama be packed into one book? As in her literary models, by the end, order is restored. "The trick is to put a little starch in the narrative," Maddy explains, in writing her story for her grandson, the heir to this Gothic tale and Conscience Point. Fully disclosed, a little tongue in cheek, plot contrivances amuse and satisfy, as does the operatic pitch of the characters: "Her voice a luscious mezzo. 'No insults. No recriminations — let's not get down in the mud. Let's not spoil all the happiness.' "
My only question is, why did they wait for fall to publish this perfect summer beach book?
September 20, 2008
"Love cannot dwell with suspicion."
By Luan Gaines "luansos" (Dana Point, CA USA)
TOP 100 REVIEWER
The road to hell is paved with good intentions. Certainly, when young Madeleine Shaye is seduced into an impulsive friendship with Violet Ashcroft, she is driven, consumed with ambition as a gifted pianist, her sights set firmly on a successful career. Taking a detour with the fascinating, unpredictable Violet, Maddy learns a harsh lesson in the duplicity of the rich, Violet's grand gestures never as generous as they first appear. Accepting an invitation to the family estate at Conscience Point, Maddy is awed by an overblown, gothic mansion that might have been evoked from a decadent past: "There's a faux finish on everything. Like our family." The dark waters of the Ashcroft legacy are obscured by the eccentricities of wealth, Violet's grand gestures, her mother, Serena's obsession with winged creatures to the exclusion of her children, Violet's brother, Nick, who simmers with resentment, soon absorbed with Maddy's blooming talent.
Of course, this elaborate, dramatic world is irresistible to one such as Maddy, at first resisting the pull of the family's excesses, only to wonder later at her naiveté, desired by both sister and brother in that heady environment. What she realizes after considerable error is bought at great expense; "The rich, immured in their own desires, need never bump into reality." It is this painful landscape the author explores, Maddy's first brush with the Ashcroft's before she veers away from them to make her own mistakes, a stalled career, an impetuous marriage, an adopted daughter. Told in more recent time (1997-98) with flashbacks to those first days at Conscience Point, with Nick, with Violet, Maddy's life is a series of stops and starts, the promise and glamour of her talent eclipsed by daily demands. Years later, reunited with Nick, Maddy once more faces the folly of her romantic ideals, brought to earth by a betrayal that calls her entire life into question.
Abeel's prose is perfectly married to time and place, the New York intelligentsia, publishing, art, the music world and the gothic hideaway, Conscience Point, where Maddy and Nick exist in an environment without consequences or past until reality intrudes. The language is stunning, memorable, images that drift around Maddie like falling stars, even as her foundation crumbles, is patched together and continues, hampered by years and revelations: "She'd rubbed up against something furry and foul in a dark cave, she sensed a host of eyes, heard a chorus of insect screeches." Such meaning-laden language allows the reader ready passport into the lives of the idle rich, Maddy feasting on leftovers as she attempts to define herself again and again, comforted by the music that calms her spirit, demands her attention when beset with the banalities of human failings and a lesson hard-won: "We don't get what we want. We're shown it. But we can't have it." Luan Gaines/ 2008.